23 February 2001
Overcast, cool getting us ready for the northern winter. We are off at 8:30, last look at the crater.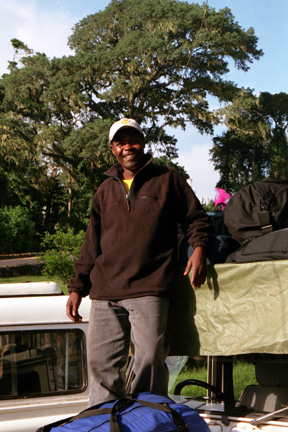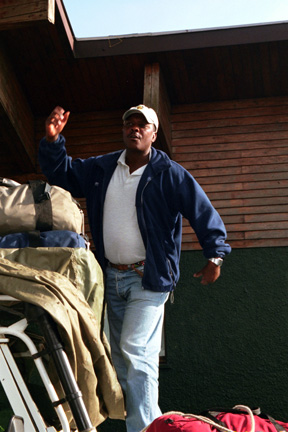 Hashim and Nasibu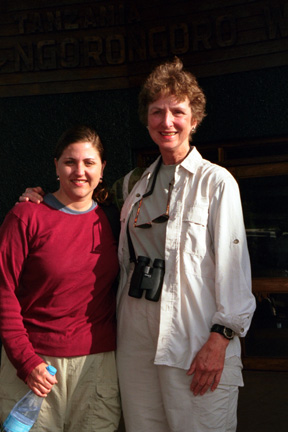 Liz and Susan Kellerman
Goodbye Serengeti. Down through the forest past a whole troop of baboons, we stop at the VC for a look at where we have been.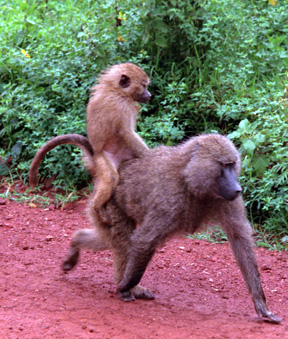 Young baboon hitching a ride

Our drivers and guides: Phanuel, Hashim, Kumbi, and Nasibu
And then it is back out into the world of the cultivators. We get to civilized Gibbs farm. Ah bliss. After check in all of us walk to the waterfall and elephant lick with Pascale. Perfect temp, overcast. Stinging nettle, pillar wood, coffee, baboon poop, lipstick tree, Forest pig droppings, wild pea, lantana, cinnamon chested bee eater, white browed robin chat, hyena dropping full of goat hair and hooves, porcupine scat, buffalo tracks and poop, elephant rubbings against trees, Yellow white eye. Feels so good to walk. To collapsed mineral lick. Then to waterfall.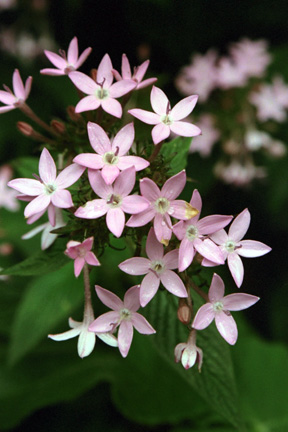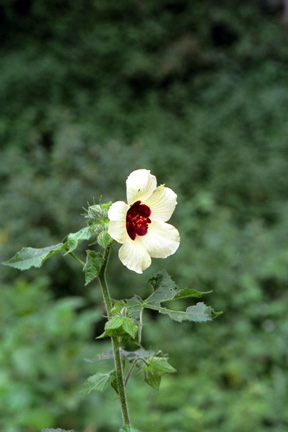 Liz and I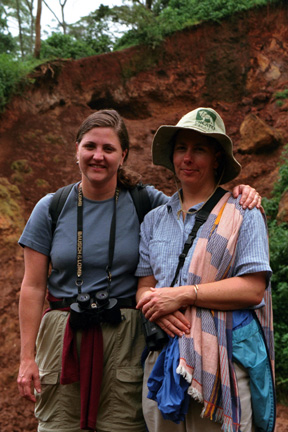 Liz and Karen Kustel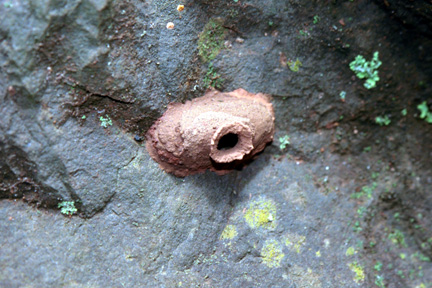 Someone's home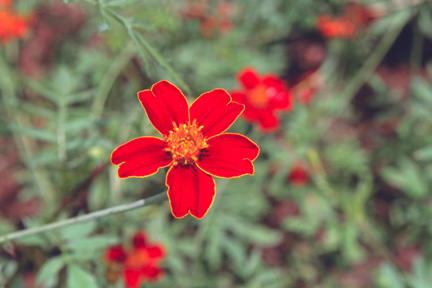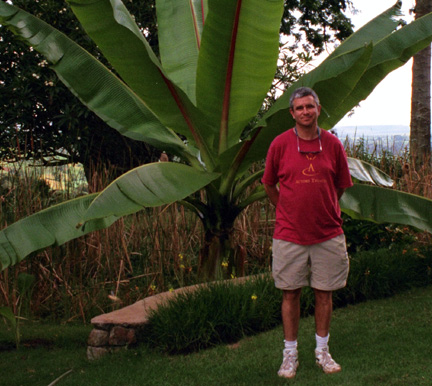 Michael Ellis at Gibbs Farm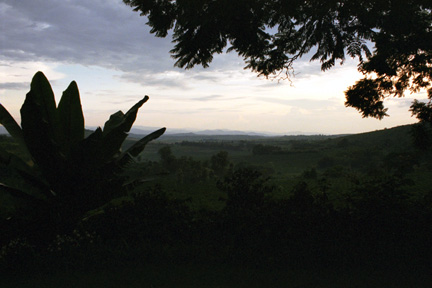 View from Gibbs Farm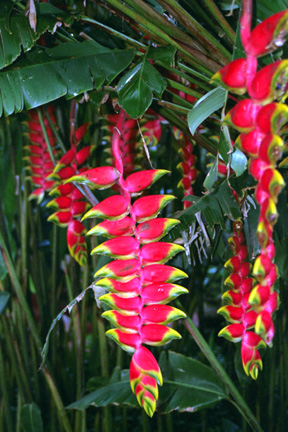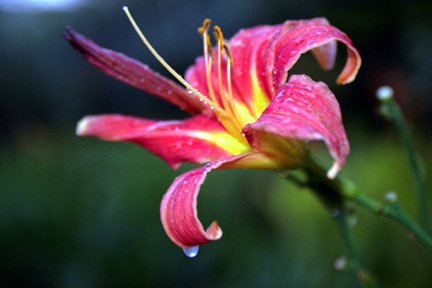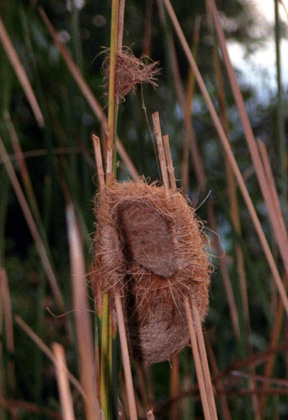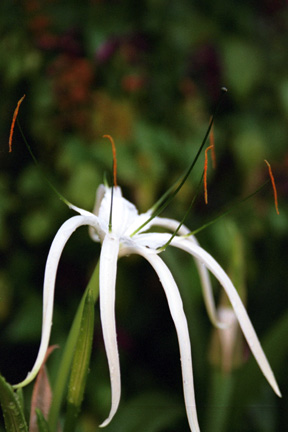 Back to Gibbs and lunch. Oh Reggie! We are in Paradise. .
After our delicious lunch (we can eat and drink everything!) we have our closing circle outside. I enjoyed all of you very much and especially having Hunter with me this year. You make my job so much fun
Some of your highlights, thoughts, etc..
Cheetah kill, quiet time on Moru Kopke. Never gnu there were lions in the trees. Stuck in the aardvark hole. Elephants are smart and know when they are safe. Crowned cranes a great view. Our first drive into the Serengeti and all the animals that we saw- w-beests, zebras, gazelles. Hippos out of the water. The leopard sightings.
Eleven (with deference to Spinal Tap) Signs Indicating "It's Time To Leave Africa"
11. You resent people who use English names for animals rather than the Swahili Chui, Duma, Tembo, and Twiga.
10. You not only think a Nubian Vulture is attractive, but you also intend to write a letter to Disney over their negative depiction of Hyena's in "Lion King"
9. You think there is nothing silly about taking 420 pictures of sleeping lions.
8. Matt and Sam are now known as "Kumbi" and Hashim"
7. You can pee standing behind a land rover, in the wind, while taking pictures of migrating gnus.
6. Each morning you notice more people waiting to see which vehicle you're getting into before selecting their own vehicle for the day.
5. You continually provoke Michael Ellis, Nasibu, and Mama Simba into arguments about whiskered tern or glossy ibis identifications.
4. You are now spending half of your time either looking at Michael S's journal, collecting stuff for his journal, or planning your own journal.
3. You've got a larium addiction and intend to hook up with a dealer when you get back to Marin.
2. You actually convince Nasibu to talk to the driver of the yellow "Leopard Tours" jeep in order to arrange an introduction to the 15-year old French girl we've been tracking since Oldavai.
1. Your wife refuses to have sex unless you dress up like a Masai warrior and jump up and down.
Twigas almost everyday. Sounds were amazing. Singing at the Boma. Coming back to Africa. Coming with my mom. Not the dangerous place of legend, all was positive. The best birthday ever (crocs, hippos, lions, cheetah, singing). Exceeded all expectations. Had many very happy moments. Camping and stars from horizon to horizon. Thunder. Rooming with Mama Simba.. More birds than imagined. Competent and able and helpful drivers. trip was orchestrated well. Giraffes at Momella- Giraffes in the Mist. The first sightings were great of all animals. 6-7 sp of eagles. So many birds at Tarangire. Powerful place to stimulate personal growth that will come later. Teenager energy was fresh, unbridled. Warm heartedness of all the drivers, and camp staff. Manifestation of giraffe icon and long term image into trip to the Serengeti. Serenity of the drivers, guides. Being in the now. Time for moral evolution is now.
O give me a home where the wildebeest roam,
And the zebra and the antelope thrive
Where they all feed upon grass
And the objects they pass
Keep millions of beetles alive.
Home home on the plains
Where the z and the antelope play
Where the thundering herds
Produce millions of turds
And the dung beetles roll them away
O the cheetah is fast and the elephant vast,
And giraffe tower over them all.
But the gardeners of Eden
Underneath them is speedin'
Away with its little dung ball.
Africa is about receiving. We were together as a tribe. Richard's chartreuse larium dreams have evolved into he and Sammy Davis jr touring Las Vegas....go figure.
Serengeti
When he comes
walking under the baobab
awash with sun, or flecked
with patches of shadows--
his curled lip, under the long hair
as rough as a crib of hay,
dappled with black flies--
when he comes,
at night, floating along the edges
of the waterholes--
when he snuffles the ground, and opens
the wet tunnel of his throat, and roars--
I think of the heavy-browed, crouched fishermen
how they stood at dusk
at the rim of the cave and listened
until it came to them
for the first time--
the teror and the awe
of the swinging, golden foot
that waits in the darkness.
Can anyone doubt that the lion of the Serengeti
is part of the idea of God?
Can anyone doubt that, for those first, almost-upright bodies
in the shadow of Mt. Kilimanjaro,
In the lush gardens of Africa
in the continuation of everything beyond each individual thing,
the lion
was both the flower of life and the winch of death--
the bone-breaker
and the agent of transformation?
No doubt, in the beginning,
he rose out of the grass
like a fire--
as now he rises out of the grass,
like a fire,
gleaming and unapproachable,
and notices me,
and fixes me with his large,
almost fatherly eyes,
and flexes his shoulders.
I don't know
anything so beautiful as the sunlight
in his rough hair
I don't know
where I have seen such power before --
except perhaps in the chapel
where Michelangelo's God,
tawny and muscular,
tears the land from the firmament
and places the sun in the sky
so that we may live
on the earth,
among the amazements ,
and the lion
runs softly through the dust,
and his eyes, under the thick, animal lashes,
are almost tender,
and I don't know when I have been
so frightened,
or so happy.
Mary Oliver
House of Light
Thank you.
The Mama Simba store is open and the mad shoppers descend on the Gibbs Farm gift shop and wipes them out. We enjoy the quietness in the garden to take it all in. RELAXING. Thank you for donating all the stuff for Mama Simba and the people of Tanzania. It rains and Matt takes a nasty fall that would put most of us out for a week but he jumps right up. David Bygott is trying to get past a cholera roadblock and finally shows up in time for dinner. Reggie has made a special menu for us and I think that I am not very hungry. ..wrong. Dinner at Gibbs is as good as anywhere in the world.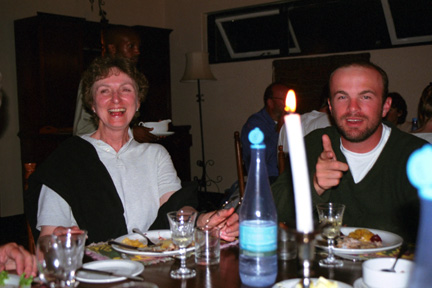 Susan and Zach Kellerman
We listen for bush babies and some hear them. Perfect temperature to sleep.
Last Modified 4.16.2002