22 February 2001
Up early for crater adventure. A miracle!!! breakfast and coffee is actually ready at 6:30, Glorious sunrise, pink clouds. Thanks for being on time. We are off at 7. Tropical boubou singing. Drop into the crater: it is cool. Huge flocks of Eurp storks, cattle egrets, African spoonbills, buffaloes, gnus, crowned cranes.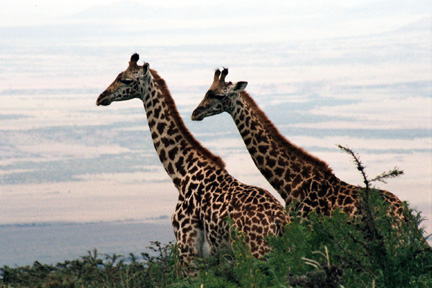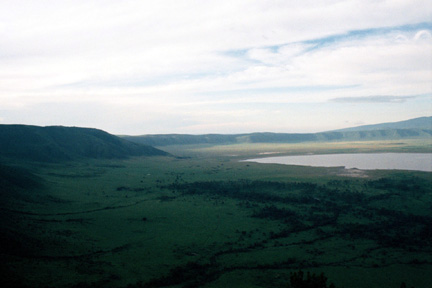 We hear there is a hippo out walking around and we hurry to see it. A real treat to see it so clearly. We even see it run, a first for me.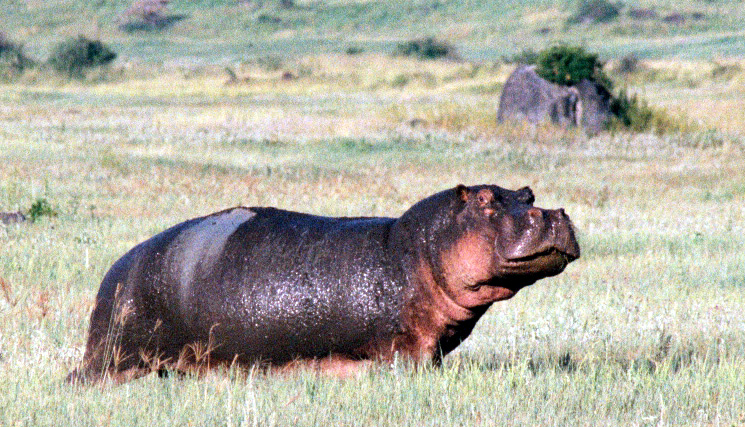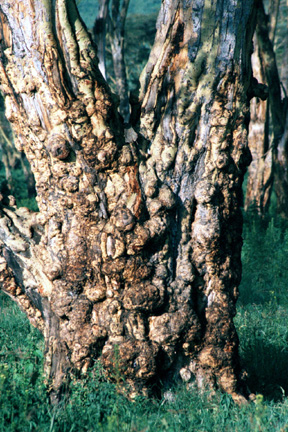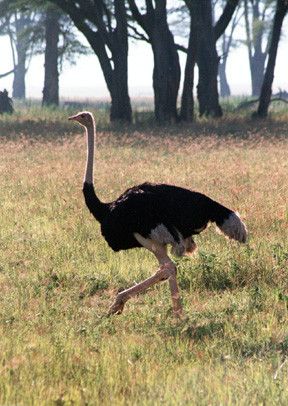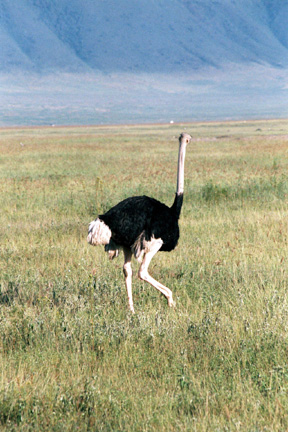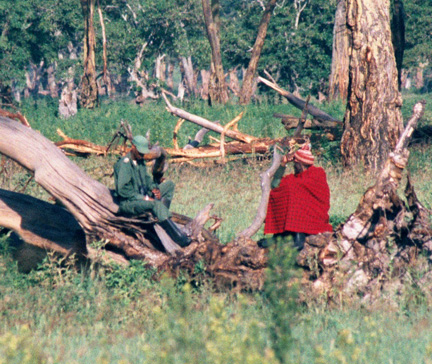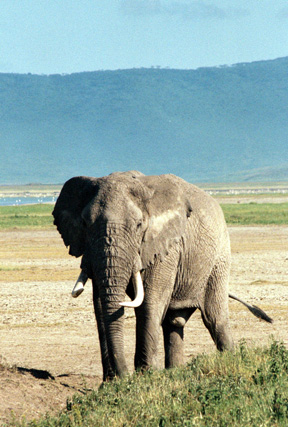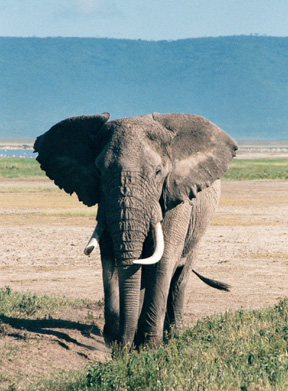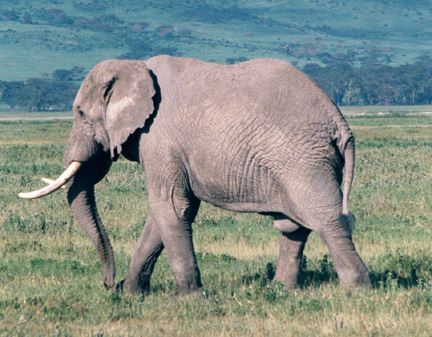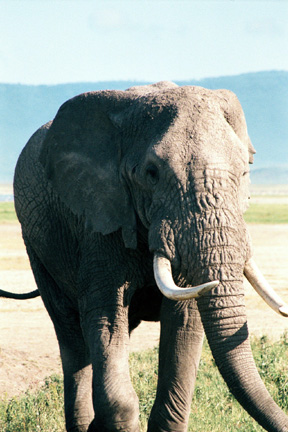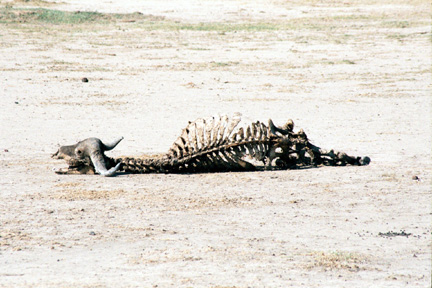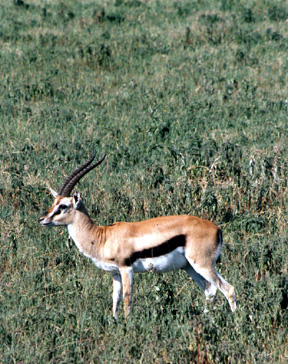 Leopard seen by one lr. Good look at Martial eagle, Marabou stork (10'8" wingspan). Then to the "hippo" pool right below the lodge - 41 hippos and an African White pelican. Northern shovelers down from Europe. One rhino toward the east, we look at the low slung chassis of prehistoric-looking mammal mass. A good size elephant crosses by. Beautiful scene w/ flamingoes and cape buffaloes. Red-billed ducks.. Gray headed gull. and gray headed heron, yellow billed storks. Lesser and greater flamingo. can't get enough of them Liz says. Southern pochard, gull billed tern, To the hippo pool one hippo w/ a baby. One lr watches them get out and walk away. Hottentot teal, snipe, sacred ibis.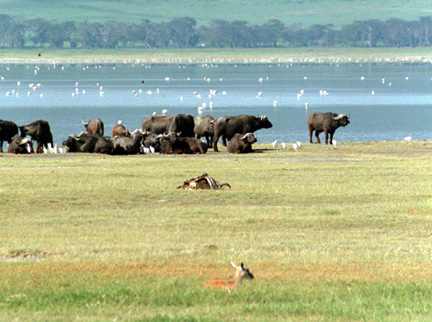 Cape Buffalo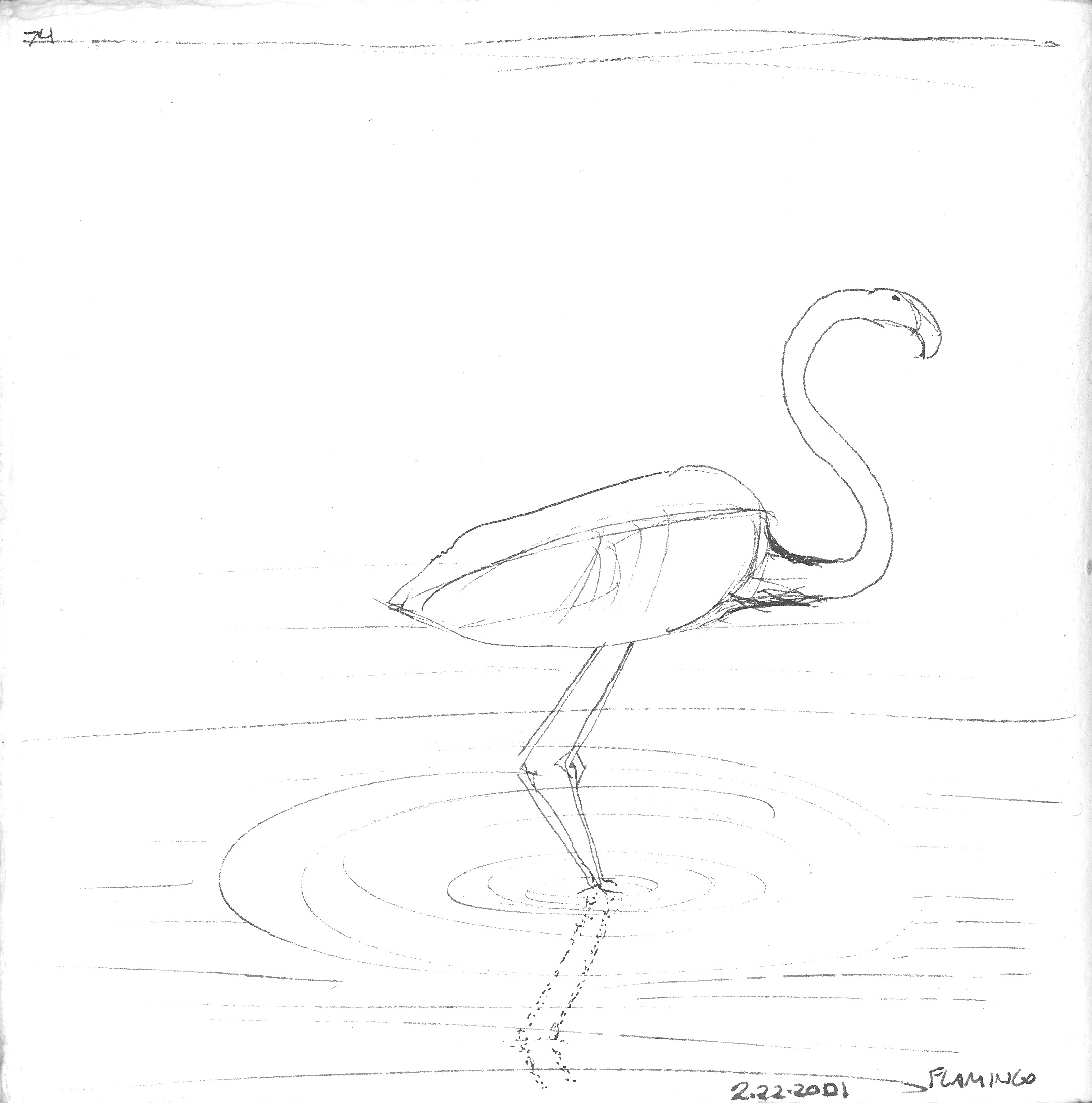 Flamingo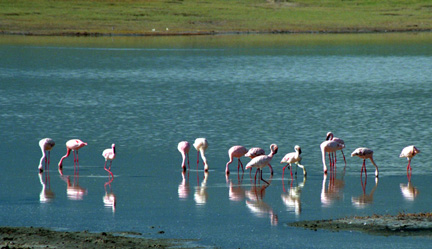 Flamingos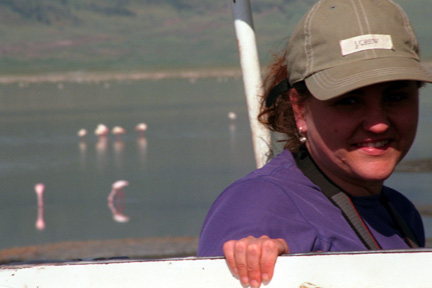 Liz loves flamingos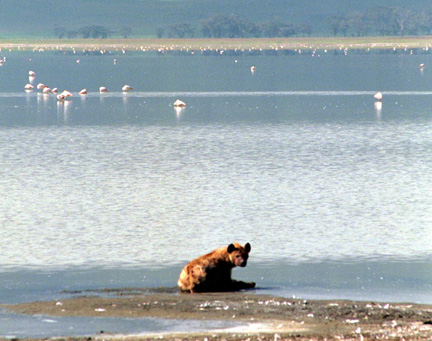 Hyenah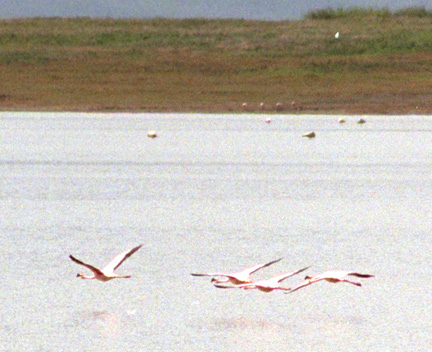 Flamingos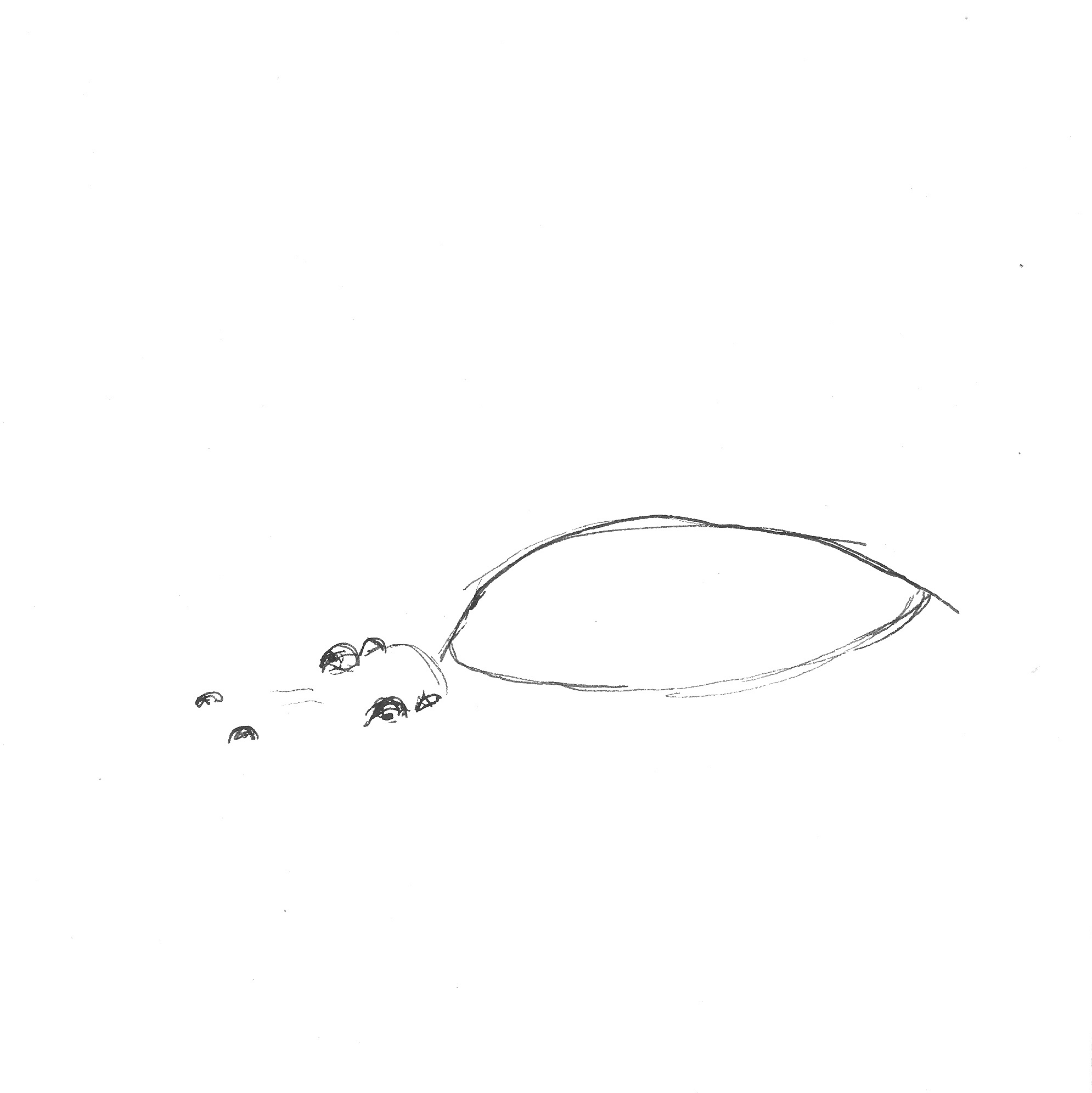 Kiboko (Hippo)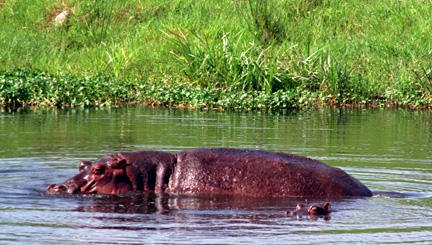 Hippo and its Baby

To the hyena den. We see two. They are the Rodney Dangerfield of the carnivores.. no respect.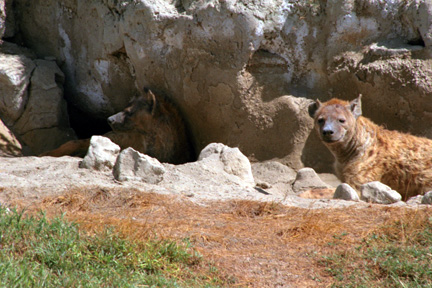 We hear through the Crater grapevine that there is a leopard but first an important pee stop. Plan B go to see two big male simbas, Glossy ibis flocks, then to the lion jam.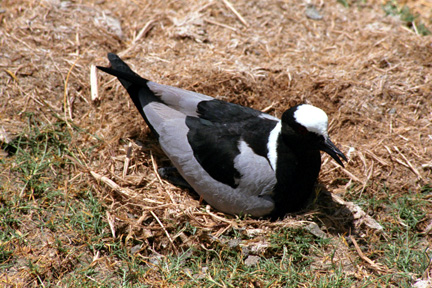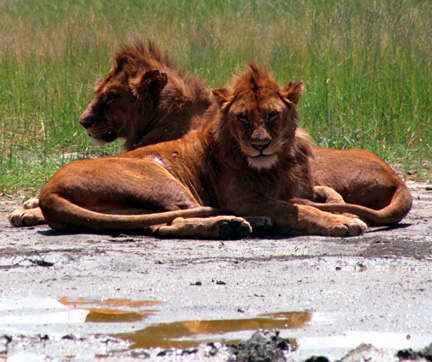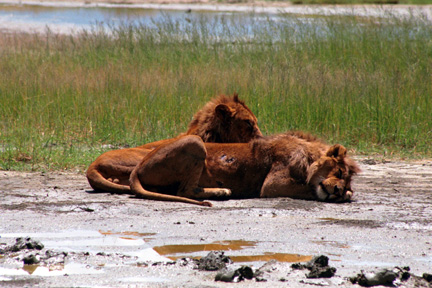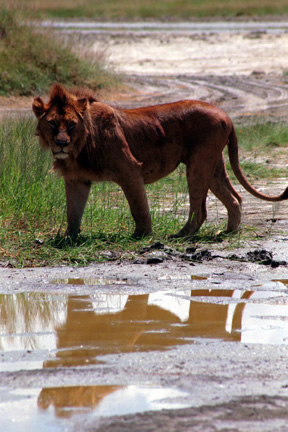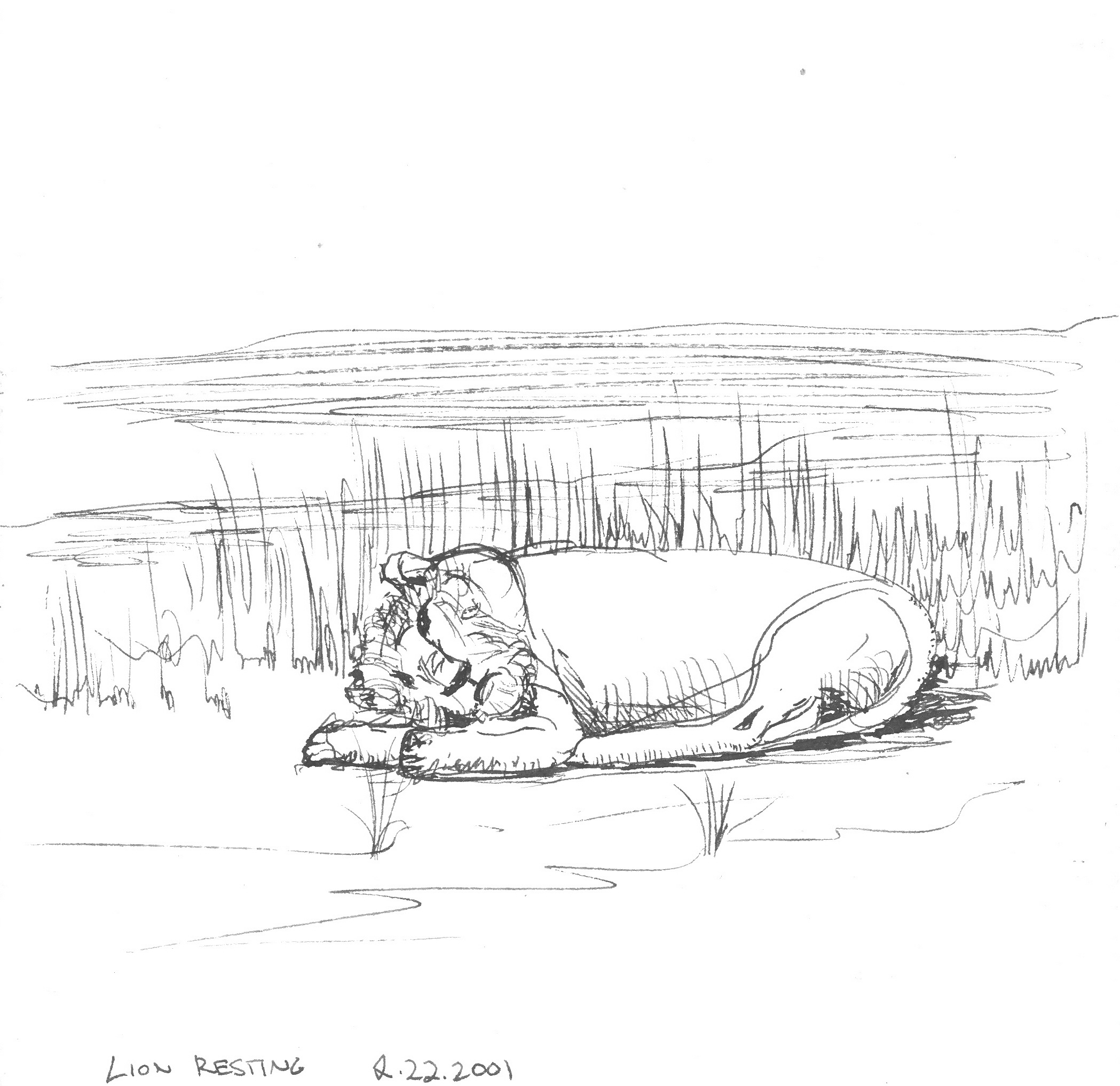 Lion Resting
Dust devils rising high off the bottom of the crater. 2000' down, 10 miles across in perfect circle. Masai cattle in crater, only in day, not overnight. 5000' on floor, 7000' on rim.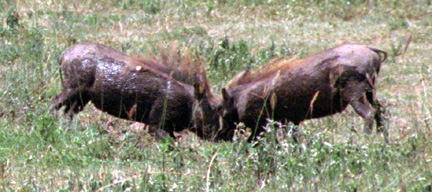 Warthogs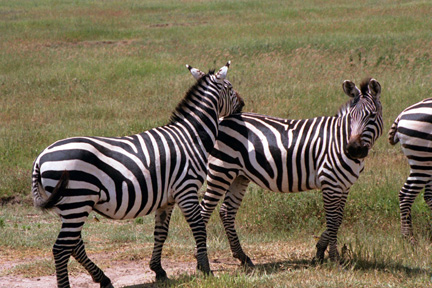 Zebras

We miss the leopard but in the forest are vervets and ellies. Lunch under the trees near the dangerous black kites. EAT IN THE CAR! Watch very stupid tourists (americans and italians) feed vervets.

An old male elephant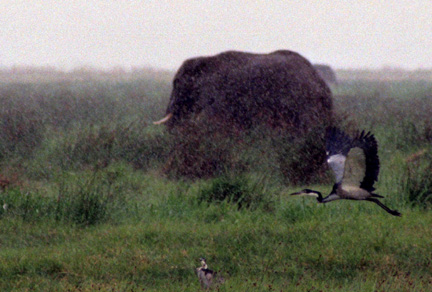 Crested Crane
Alot of everything (no giraffes, impalas, topis, or female Elephants) plus the rhinos. One lr goes up to the lodge, we see at least 3 maybe 4 rhinos. Total pop is 15, 4 recently died of disease. Then another land rover goes up, now there are 2 left. One much better look at a rhino who has wandered over much closer and we are in a powerful rain shower.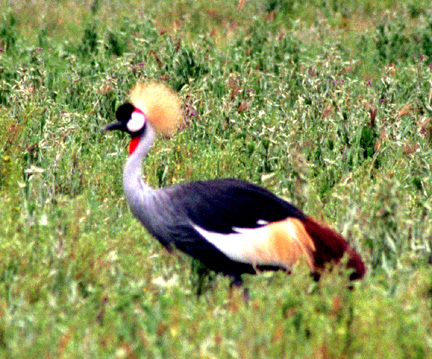 Up to the rim for R and R -. hot showers, cold beer, great view of whitenecked ravens. Streaky seedeater,, white rumped swifts, swallows and storks. Thoughts are beginning to turn toward home. Raves for topi meat -- fun to watch and tastes good too.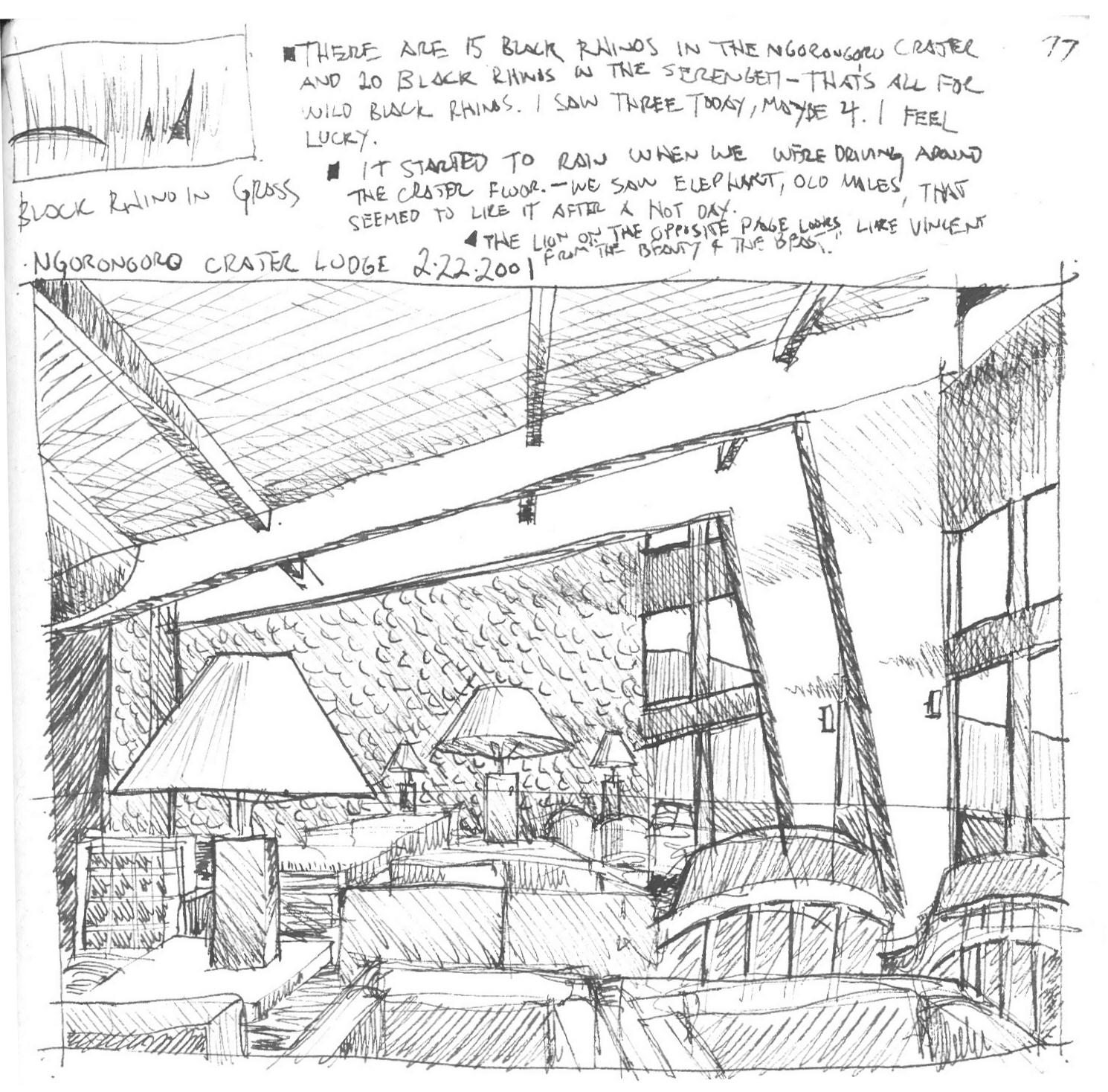 Ngorongoro Crater Lodge
The Bantu Arusha Acrobats are a really, really good show. Gunther is following us. The card game continues- Hunter and Nasibu VS Matt and Hashim.
Listen to the Bantu Acrobatic Troupe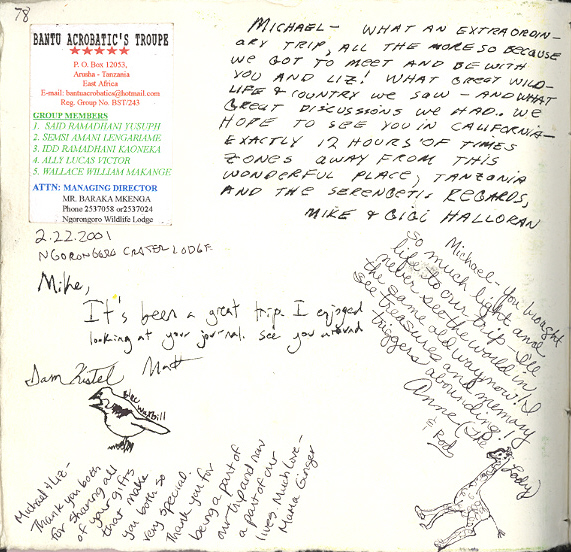 Notes from Mike & Gigi Halloran, Sam & Matt Kustel, Karen Kustel, Anne & Rod
Last Modified 12.3.2002