16 February 2001
Larium Day. And Richard imagines hyenas in camp last night. One came and stared into my Tent. Whooping galore. A hyena sweeps off all the things on the table in front of Gigi and Mikes. I heard a leopard grunting (or hippos). Amazing factoid--Nasibu's bucket of water was carried by the hyena far away from his tent and nothing was spilled! Susan, Sam, Ann and Rod stay back this day. We head to Naabi Hill to get our park escort, so we won't steal any baby cheetahs. Our old dark sick giraffe is not along the road. Where is he? We see an elephant right out of camp- male a bit nervous about us.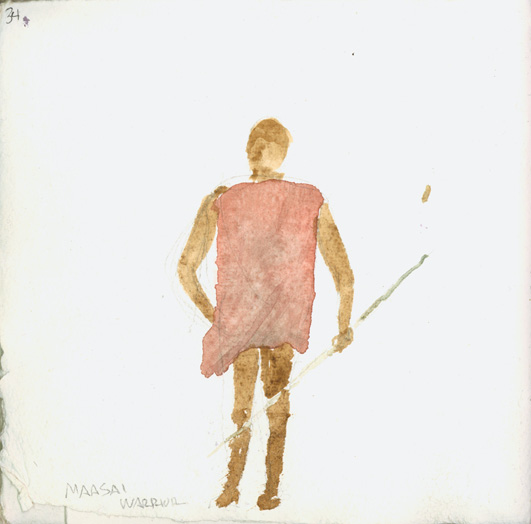 Maasai Warrior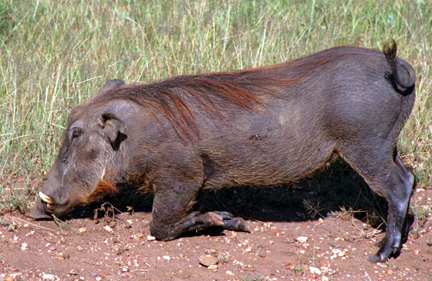 Wart Hog
Perfect looks at 2 crowned cranes, the national animal of Uganda, Watching them fly away was also grand.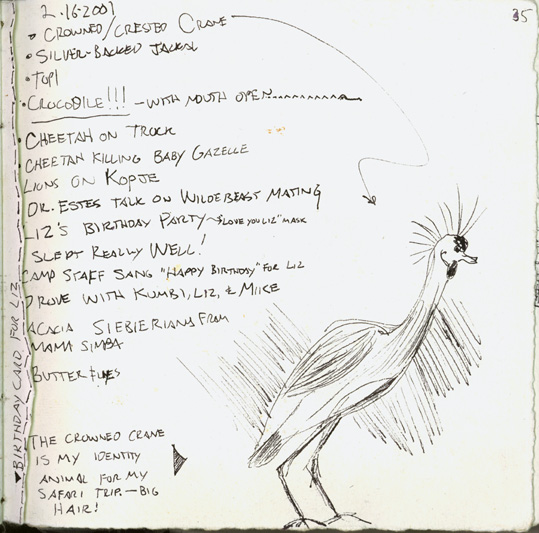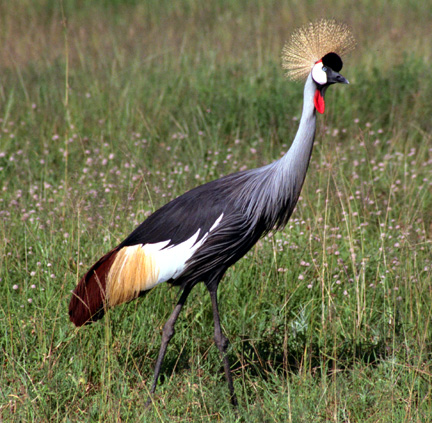 Crested (Crowned) Crane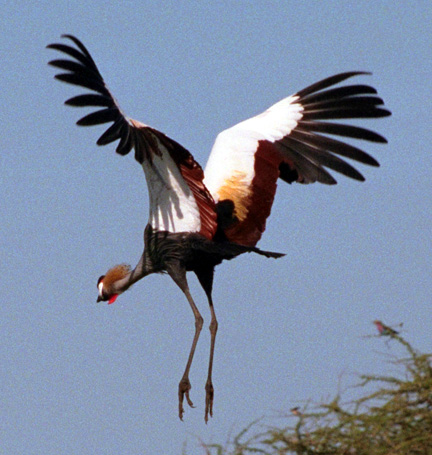 Crested Crane Flying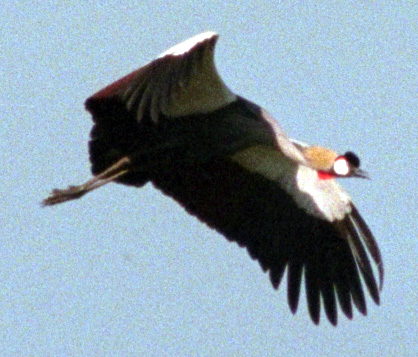 Crested Crane Flying
There is a young Grants and 2 black backed jackals. At the pool we see a big croc floating toward the back. White-bellied bustard. Pin tailed whydah (why da long tail?). Toward the west is a very long line of Cape Buffalo and a huge flock of Eur storks and Abdims Stork (which I first ID as pelicans) Stop at NH and don't have to have a ranger.

Kopje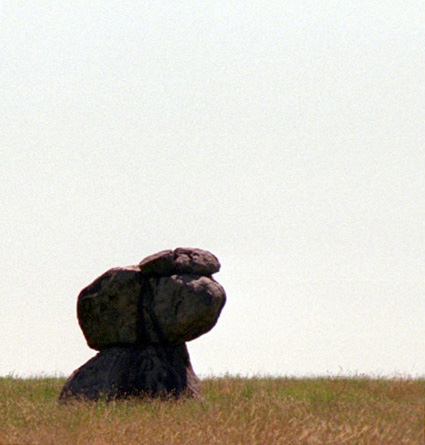 Kopje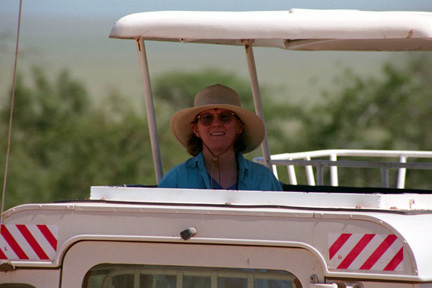 Julia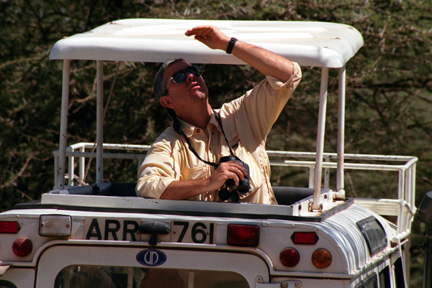 Michael Ellis spotting a bird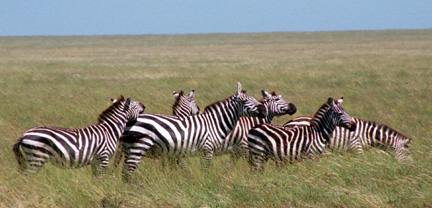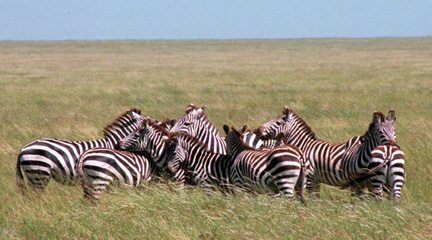 Zebras
Hurray. One Golden jackal. Heading out to the Gol Kopjes and see 4 vehicles stopped in the middle of the plain. . I suspect cheetah but as we approach we are all amazed at what we see- the female is up on the roof of a land rover! The 2 yg children inside are terrified and passed to another vehicle. More come and soon there are 15 veh's including us. The lr moves but the cheetah doesn't jump off like they usually do. Incredible. Has mange on her forehead. And then she suddenly sits up and is looking to the distance, leaps off and begins to trot and then run and then pursues and captures a very young Grants. 100% success when chasing the babies. We follow and take a quick look and then leave the poor animal to eat surrounded by the other veh. Good choice. We feel sorry for the cheetahs with all the paparazzi.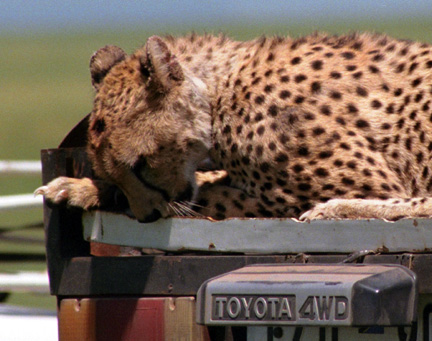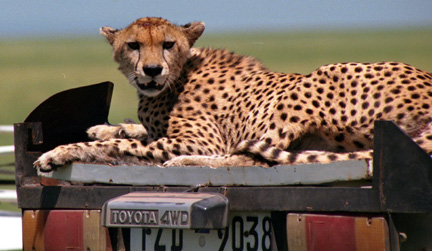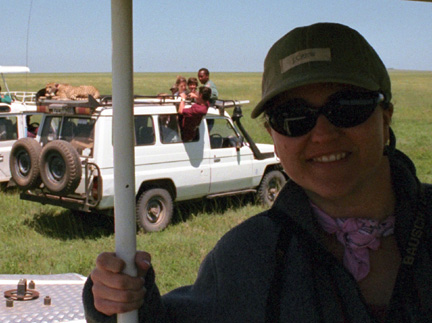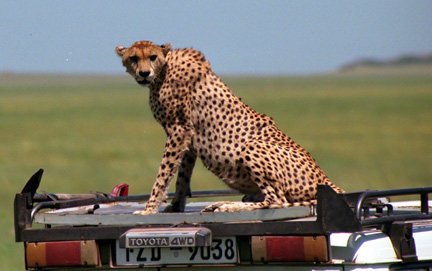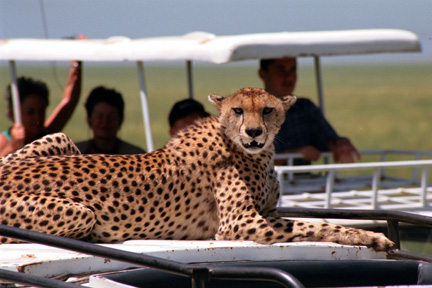 Listen to Interview with Matt Kustel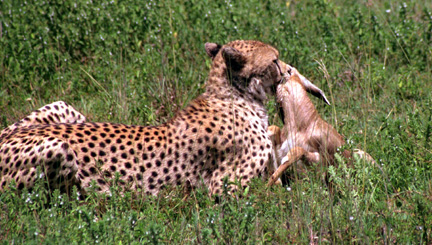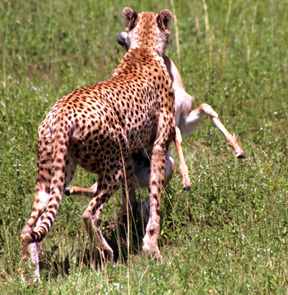 Cheetah
There are many many common kestrels and some lesser kestrels, thousands of Eur and Abdims storks and hundreds of whiskered and white winged terns (Nasibu, MS and I argue about it) flying around and catching insects. And of course the butterflies still everywhere. To the south, many Zebras and w-beests, we will see them tomorrow. Northern wheatear, laughing dove, speckled pigeon, Steppe eagle, We lunch on a kopje full of wildflowers but no cats. Veg Pizza for lunch, yummy.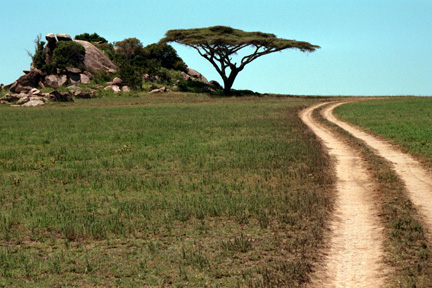 The wind is up and we see a big male lion with his large mane blowing in the wind.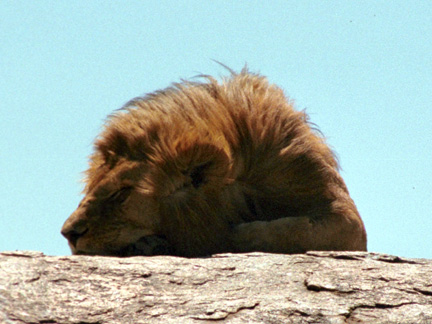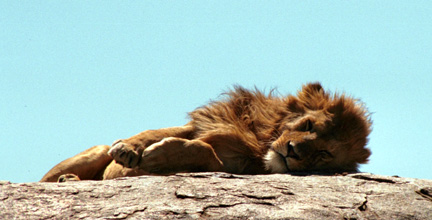 At the next rock we see 2 smaller males, probably just kicked out of the family group. and the final simba look are at 2 large females sitting together on low rock. Bob gets a 'look' from one of them that sends chills down his back. We are very very close to these Queen of Beasts. Matt drops his sunglasses right in front. A fellow tourist tells him that he is a "big soft pussy" for not picking up his glasses.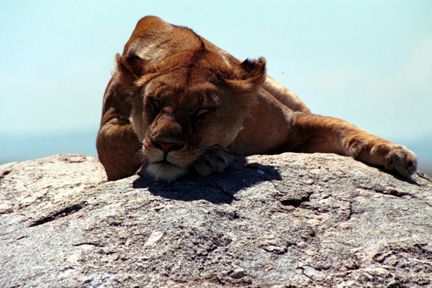 Lion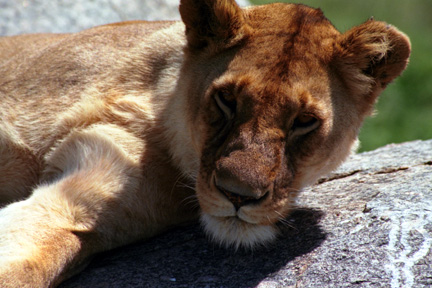 Lion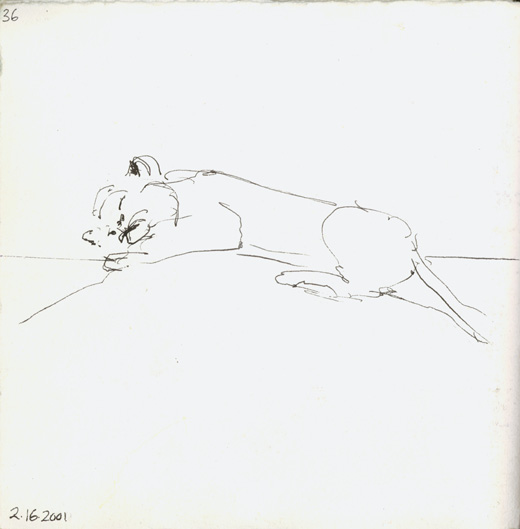 Lion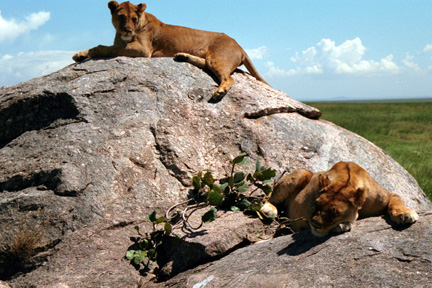 Lions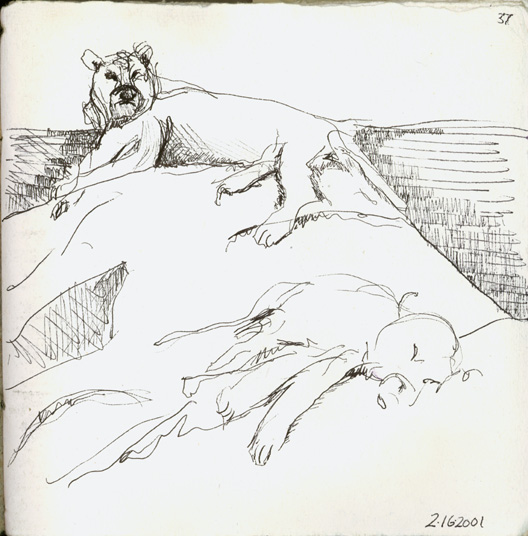 Lions
We wander back to the Simba Kopjes and the main road. And then past the pool and there is the big croc sunning himself on the bank with his mouth wide open. We drive up a bit and can look right down it. Anteater chats. Back to our home sweet home. Pretty good birthday I would say for Liz!!!!! Hot showers, tangawizis, journal, cards and beer. We light the Shabbat candles another good tradition dovetailed with larium day. Dr. Estes [Estrous]. comes for dinner and tells us a few facts about his favorite animal. Factoid- males gnus grunting may stimulate the females into estrous like bullfrog males do to females. Only antelope which doesn't hide its newborn. Bob wrote a paper on it in college. Liz gets a birthday song. Whatta day.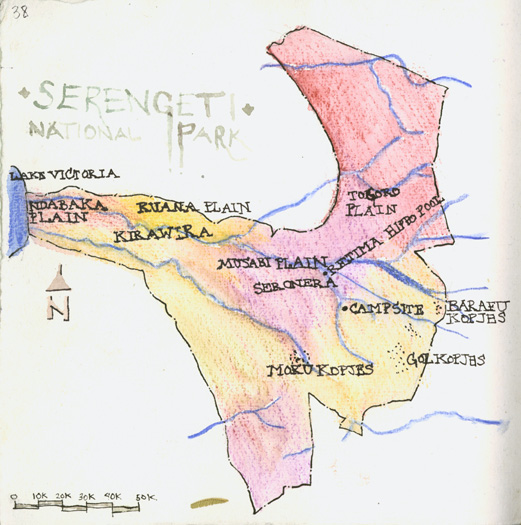 Listen to "Happy Birthday, Liz"
Last Modified 12.8.2002