14 February 2001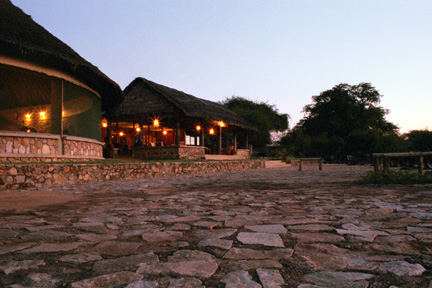 Tarangire Safari Lodge at Dawn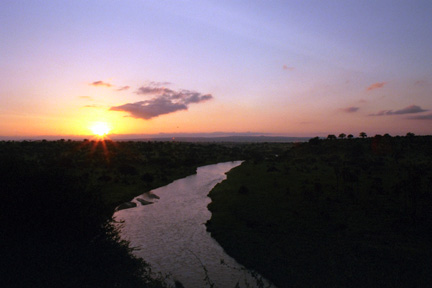 Sunrise from Tarangire Safari Lodge
Listen to Tarangire National Park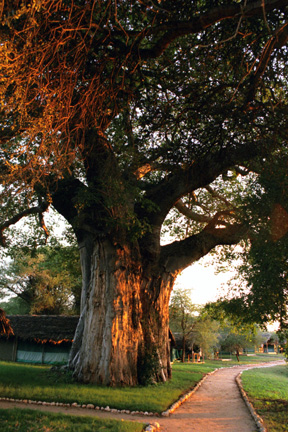 The Baobab tree in front of our tent at Tarngire Safari Lodge
Listen to Michael Ellis on Baobab Trees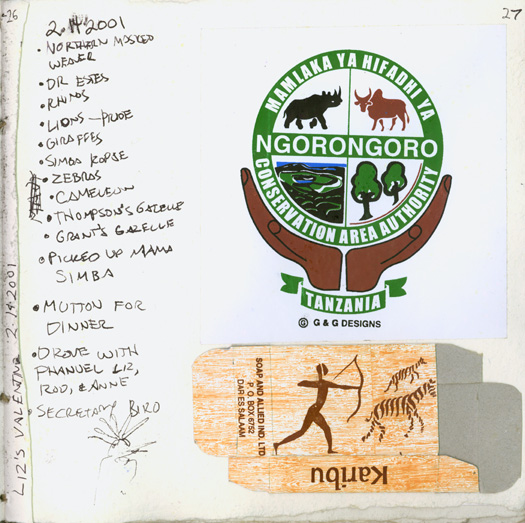 Happy Valentines Day!!.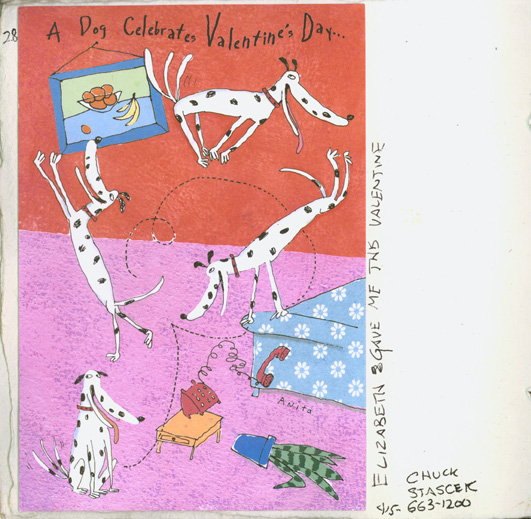 We are off at 810, what a group!! Leave the Park. And then back to the pavement... enjoy it. last pavement for 10 days. Zebras and then a rough bouncy road, that fortunately becomes quite smooth and easy. Best I have ever seen it. Thousands of cattle egrets in the fields. Wondrous candelabra trees (related to Euphorbias). Heading toward Lake Manyara. We are right in the Rift Valley. Pass through Mto wa Mbu (Mosquito Creek) with nests of pelicans, herons and storks right in town. Then we go up the escarpment and stop for an overview of the geology of eastern Africa.
Lake Manyara

Our Caravan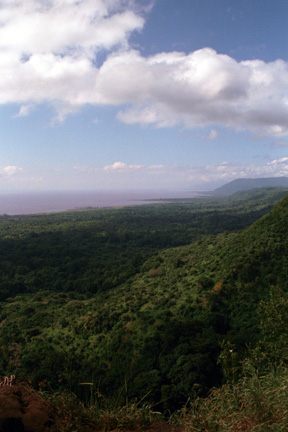 Lake Manyara
Up into the Highlands through the Irawq people, and where Tanzania's marathon runners come from. We pick up Mama Simba at Karatu and a brief but important stop for water and gas and our first but not last- Pringles!!...go through corn, sorghum, beans, wheat. Nasibu sees a chameleon crossing the road and I catch so we all can see it. Momo kali. Stop at gate and visitor center to Ngor Conservation area, Where Jeannette gives us an overview of the NCA and the Serengeti ecosystem and a bit about the geology and human history. Bob wrote a paper on it in college. Boundaries determined by the Wild Beast migration. Wildebeest, Tommies, Elands and Zebras all migrate. Ash from volcanoes creates fertile rich soil With Mg, Ca, and K needed for pregnancy and milk production. One of the last places of the great mammal migrations left on earth. Weather comes from the east. Lake Victoria is largest lake in Africa, 2nd largest in world. Grants, bushbuck, reedbuck stay put. Impalas and kangas (guinea fowl) are indicators of healthy ecosystem. Up through the trees to our first look at the crater and we find 4 rhinos far below.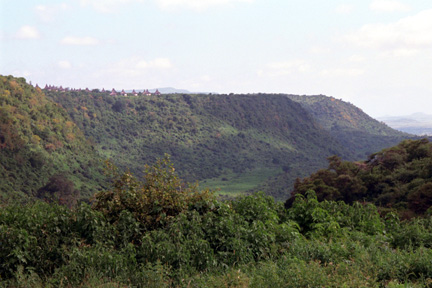 Ngorongoro Crater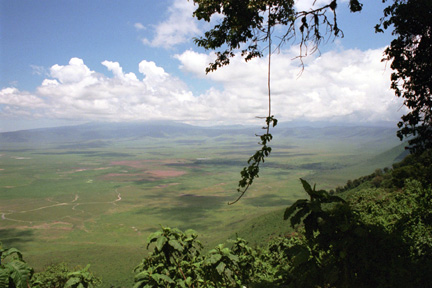 Ngorongoro Crater
Will we get to see them closer? You bet. Incredible place 10 miles across and alot of vans. Hunter, Liz and Rod have had better days but they are all glad to be here. Down through the Malanja Depression (our first taste of the Serengeti) and there are 1000's of Eur Storks, w-beests, Grants Gazelles, Ostrich, marabou stork, kongonis, bright red Masia and their cattle, goats and Bomas. Nausibu spots some elands 50 at least. May be our only sighting. And then Dr Estes (Safari Companion) comes by and visits a spell. Next stop lunch at an old gravel pit overlooking the plain. can see Naabi Hill and way in the far distance, Banagi Mountain, the one just north of our camp. We still have a ways to go. Lisa says we will never make it today. Then down the hill and to the Serengeti (Maasai for wide open space) and into the Maasi land. The migration has arrived -- Wildebeests, Tommie, grants and zebras. Kori bustard (the heaviest flying bird). And then some simbas - 3 males and 2 females. One female seems in heat and a bit coy but it doesn't work. Everyone has eaten, too full to s----. The male throws up some Zebra for us to see.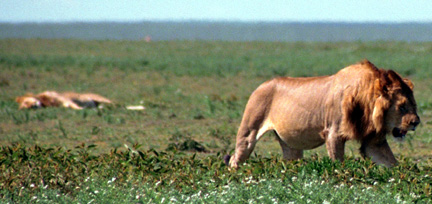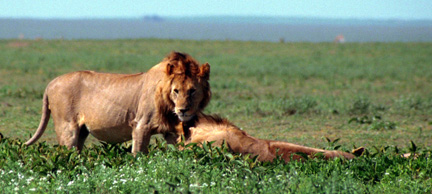 Lions
Nubian (9 1/2 foot wingspan!) vultures around. WOW there are animals everywhere. Into the Serengeti National park. cool.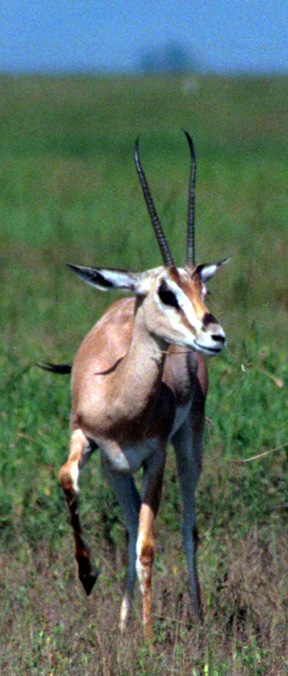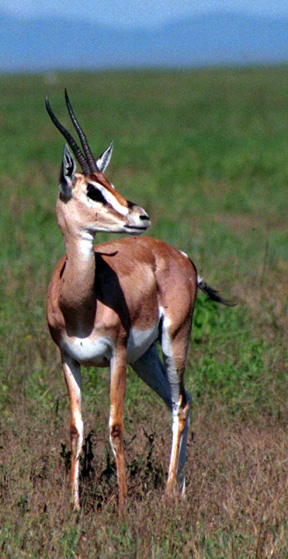 Thompsons Gazelles
More Kori's Bustard, Ostriches, European kestrel, Montague harrier, wheatear, Secretary bird (the archer of serpents). . We check into Naabi Hill and enter the park! Marabou stork roosting sites. Hike up to the top of the hill for agama lizards. We are off and see some lions on Simba Kopje .We follow an injured hyena with swollen teats- mastitis? great looks.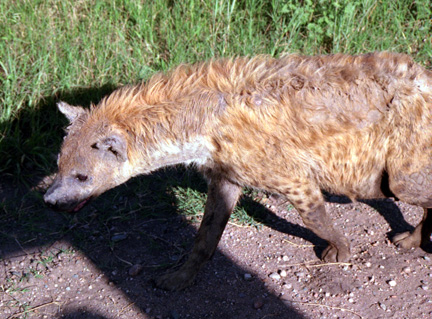 Hyena
No grazing animals in the taller grass but Hunter spots our first backed jackal. More lions- 5-6 females??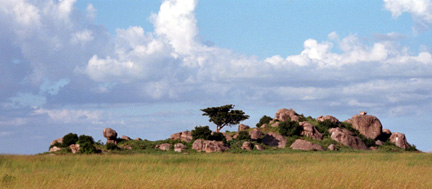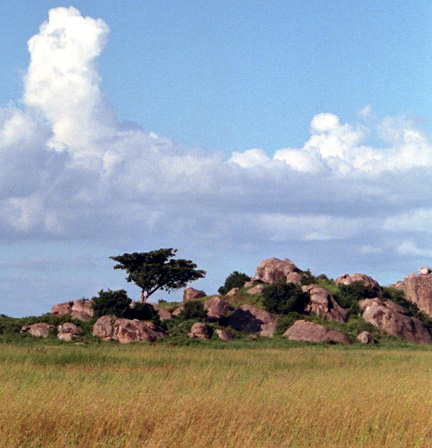 Kopje on the Serengeti
Slowly the environment is changing, more trees. Into the Serenara area and we stop to watch some masked weavers hanging from their nests.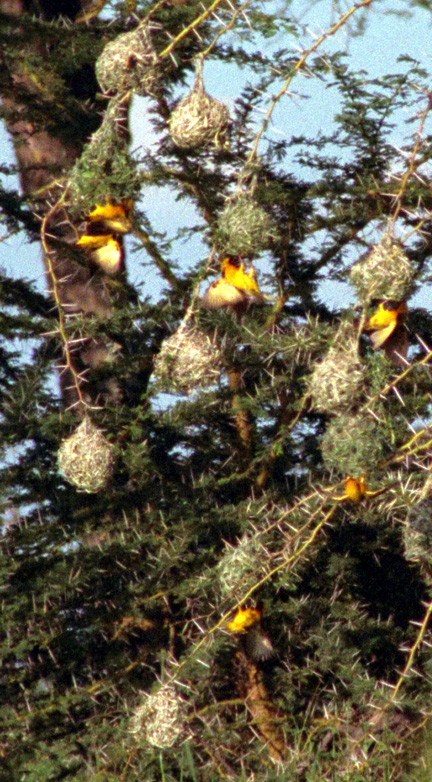 Weaver birds hanging from their nests
Listen to Michael Ellis on Weaver Birds
Green backed heron, no hippos. Our first topis (like Kongonis but with shoe polish). To our Serenera classic campsite. Moru Kopjes is closed to camping so it is PLAN B and it is great. John the camp manager, a Masai, gives us an orientation. Jacob. Harry and Nicholas are truck drivers. Help - Boniface, Ali, Eli and Martin the Chef. Hot showers for all.
8 Giraffe Lane, our tent at the Serenera Campsite
The Serenera Campsite
Interview with Liz Scherotter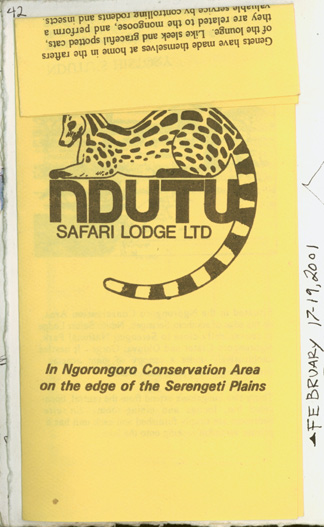 Lilac Breasted Roller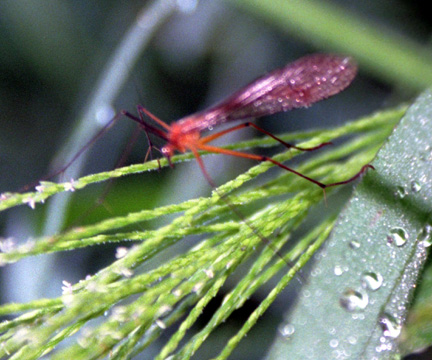 A big bug near the campsite
Venus is in a crescent phase. After dinner it is Happy Birthday for Mama Simba. Clouds come over to delay our star watching. hyenas come to visit us at night, eats my soap and knocks stuff off Lisa and MS porch. Lions roaring in distance.
Last Modified 12.18.2002