12 February 2001
6:52 sunrise over the Tarangire River.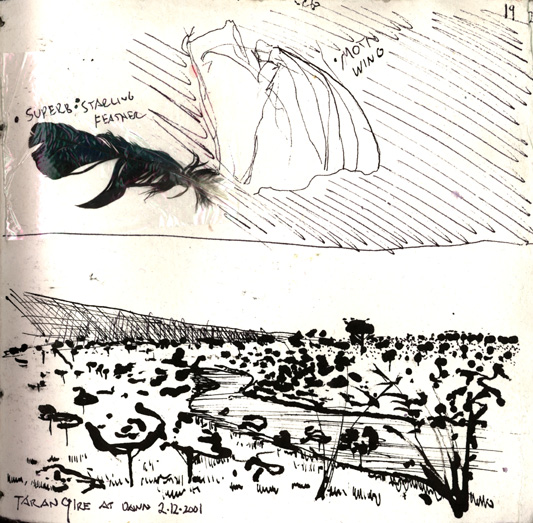 Michael Ellis on Feather Colors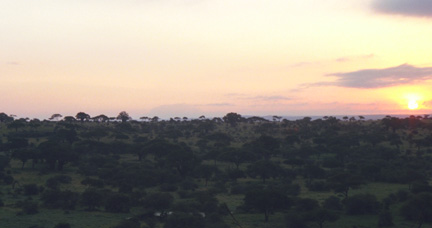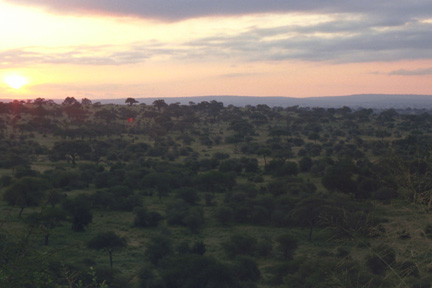 Tarangire Sunrise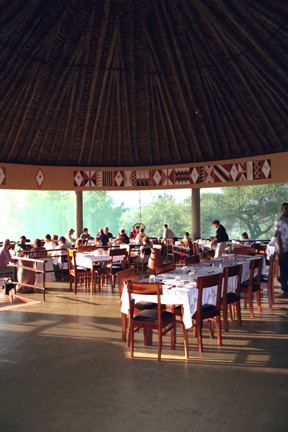 Breakfast in the Tarnagire Safari Lodge Dining Room
dikdik out in front my cabin. While waiting to leave on a game drive, I tell you the difference between structural color and true pigment in feathers. Left at 8:20 for a full day safari with box lunch. Rod, Julia, and Susan stayed home to soak up this place of beauty. First stop of many for the abundant birds of Tarangire - Woodland kingfisher. There are some clouds, may keep it cooler.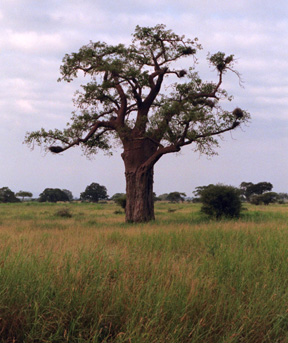 Baobab Tree
Red-billed and gray hornbill. Pale chanting goshawk. A breeding flock of chestnut weavers - a life bird for me.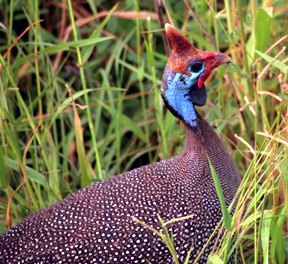 Helmeted Guinea Fowl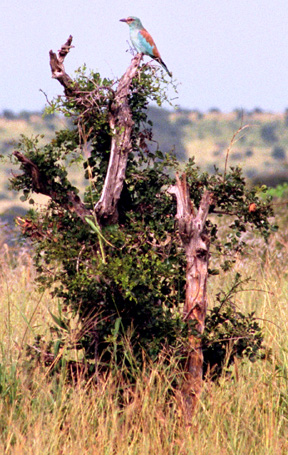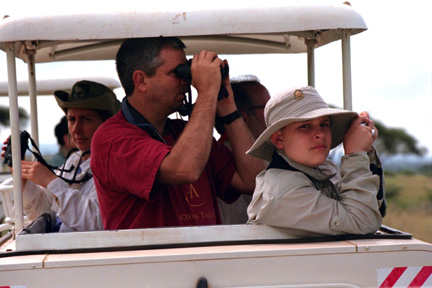 Lovebirds
Watch a martial eagle eat a spur fowl. We all meet at the overlook for impalas and ground hornbills [3].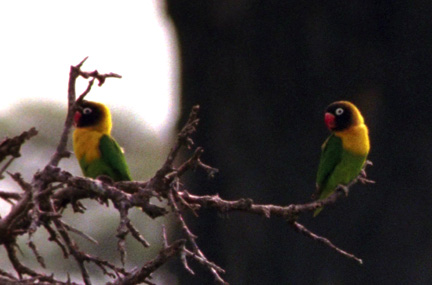 Michael Ellis and Sam Kustel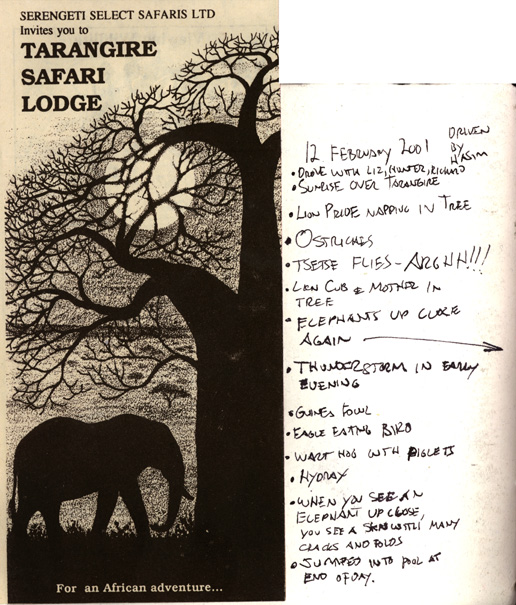 But definitely it is the day of elephants!! A family group moves through us and we watch a male chase off a rival and walk very close to our land rover. Kumbi says he looks like he is not happy. right. Red and yellow barbet. Hot but tolerable. 4500' elevation. Green Wood hoopoe. Elephant Penis can weigh 37 KG!. Our first simbas [7] are spotted up in a sausage tree. cool.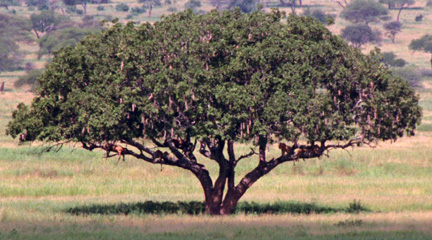 Lions in a sausage tree
Striped kingfisher. More Vervets - babies are handled by many members of the troop even shortly after birth. One of the many sister groups that we will see on our trip. Namaqua dove the smallest in Africa. We drive south following the river, past Tarangire hill, another elephant family- a group of orange ones. It is getting HOT. Tsetse flies are only attacking Richard. Meanwhile a banana is slowly making its way into Bob's wallet. So many butterflies everywhere. Rock and bush hyraxes. Finally to lunch at 150.Great view of Silale Swamp and 2 African fish eagles. Box lunch. Heading back along the swamp. The tsetse are annoying but we have them to thank for most game parks in Afr.
Giraffe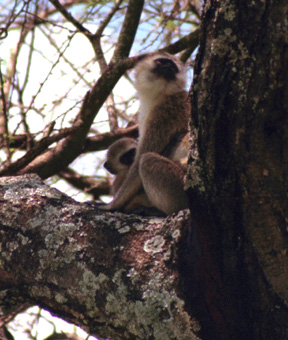 Vervett Monkey and baby
Very close looks at 4 male and 1 fem ostriches. Meanwhile Hashim's land rover gets very close to a mama ellie.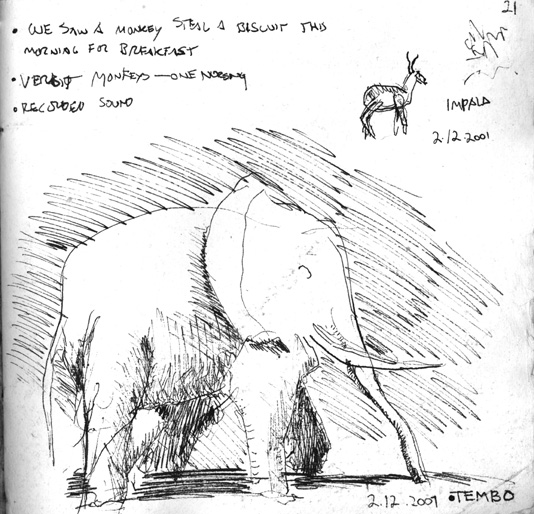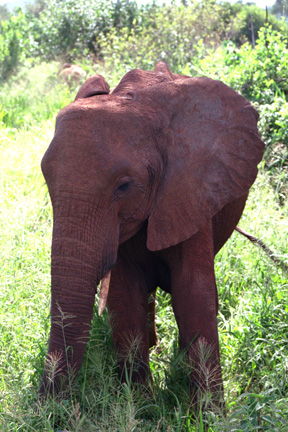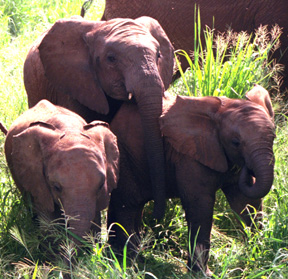 Young elephants
Listen to "Watching Elephants"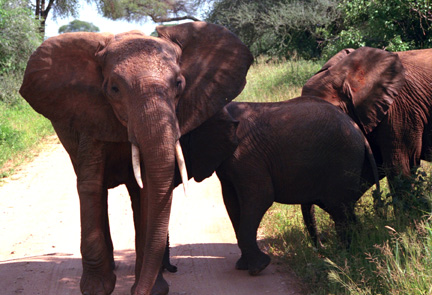 Elephant crossing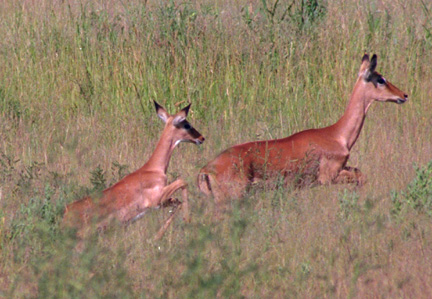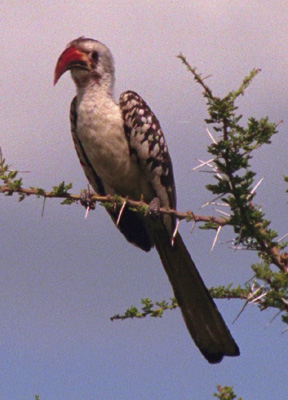 Hammerkopf
Listen to Bird Sounds
2 more lions in a tree right next to the road. Our first lion jam.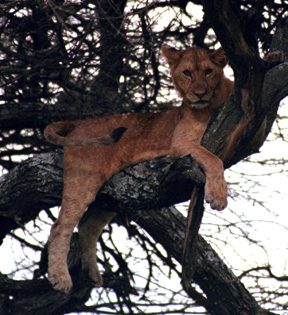 Lion cub in a tree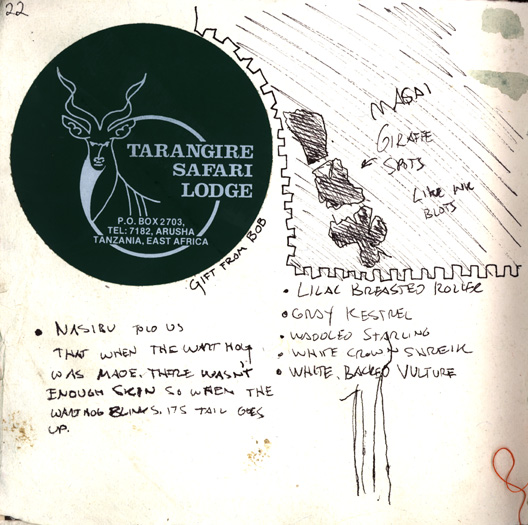 Some of the hyraxes are out on the rock. Crossing the river we see a Nile monitor lizard. Other birds of the day -white collared buffalo weaver, bl-winged bishop, little bee-eater, and European roller. Rufous naped lark, beautiful sunbird, long tailed fiscal shrike, red-billed buffalo weaver, bare-faced go away bird, red throated and yellow throated spur fowl. African groundsquirrel around the lodge. Several tents invaded by vervets, groundsquirell or mongooses? Back by 5, we have the pool to ourselves. Then the rain and a double rainbow. We meet at 7 for a talk by Nusibu on the history of Tz. Bob wrote a paper on it in college. The bar b q night.
Last Modified 12.3.2002