11 February 2001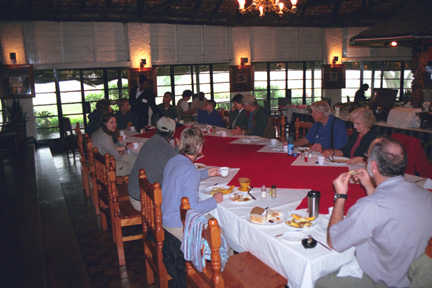 Breakfast at Momella Lodge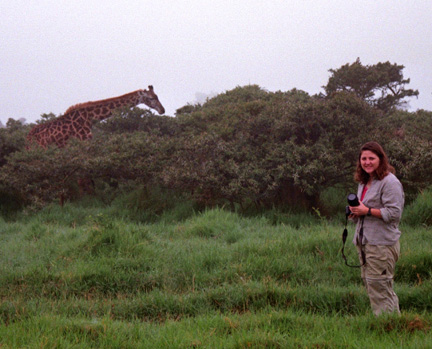 Liz and a Giraffe near Momella Lodge

Kili very clear at 6. but fogs rolls and covers it soon. Hyenas last night. What a great group, on time at 830 but we load at 845 and we are off. Baglafecht weaver. On the way out we watch two blue monkeys on the ground eating a mushroom. Best looks I have ever had at them. And there is the little Serengeti with our first zebras and more of the great animals we have been seeing- twigs and warthogs.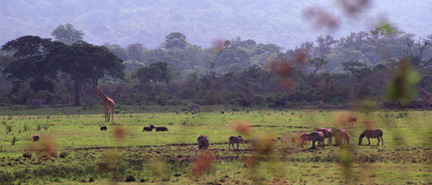 "Little Serengeti"
Drove out of the park down that bumpy road past bananas, coffee, rice, silver oaks (not a real oak), back onto the hiway and past USA town. We actually did see a cutout giraffe and into Arusha Town and the Impala Hotel to change some money. 790/dollar. 750 tc .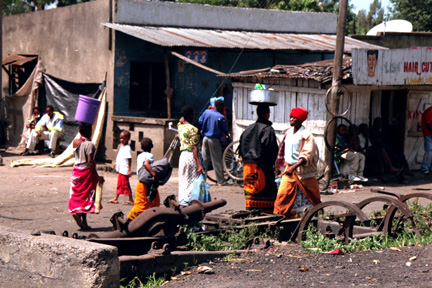 Driving throuh Arusha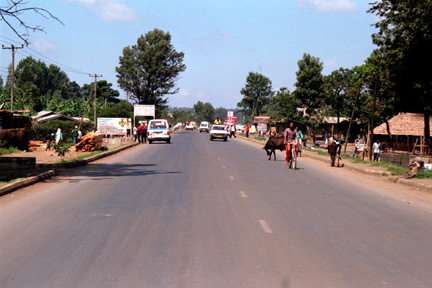 Driving throuh Arusha
Then we continue south on paved road (hurray) through Maasiland. Big flocks of European (white) storks. Superb starlings. Enter Tarangire Park at 1230ish. Black faced vervet monkey doing an alarm call but we don't see what is alarming it. I put the scope on a female pygmy falcon. A beer or tangawizis for the first elephant sighting, which was by Hunter. (proud father moment).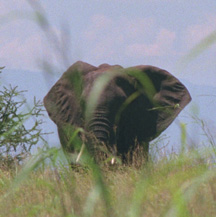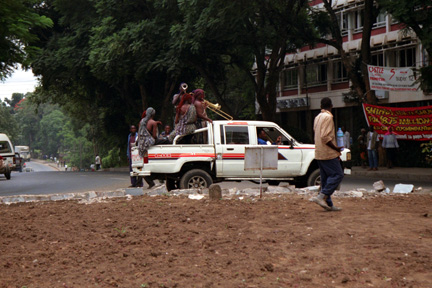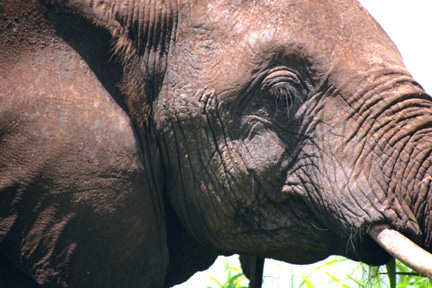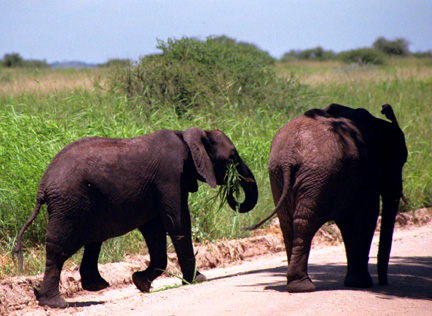 Elephants
Magpie and long tailed shrikes, white headed buffalo weavers, white crowned shrike, yellow collared love birds, white winged widow bird, ashy starlings (unique to this region).. It is a bit warmer than Amsterdam. Leafed out baobabs. Much rain this year. Yellow thr. sand grouse., white bellied go away bird, A stop to look at an imm. tawny eagle right above the road. Hunter sees a bunch of male elephants. And then we get very close to a family group. She scratches her wrinkly butt on the baobab. To Tarangire lodge for lunch.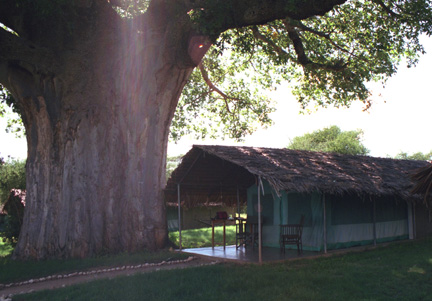 Our tent in front of a baobab tree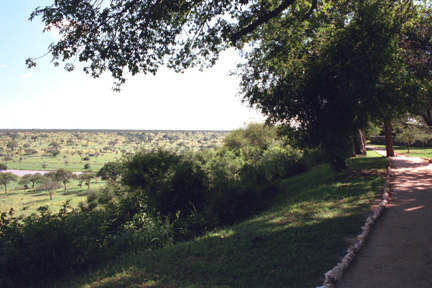 View of Tarangire National Park from the path in front of our tent
Yummy -What a spot. Swimming, sleeping, reading, Striped swallows by pool. A game of catch football with one of the less famous Pennsylvanian quarterbacks throwing and Zack the king receiver with Matt a second, me, then Sam and finally Hunter with a completion record of 4 out of 45. A troop of baboons stops by our tents and then we are off on a game drive at 415.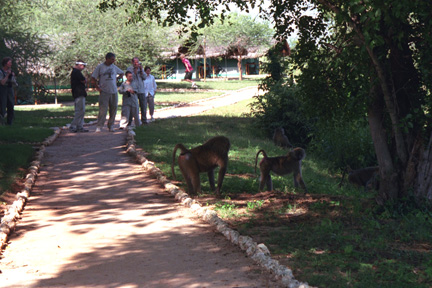 A baboon troop walks around Tarangire Lodge
Mike napping away. We see the first of 1000's of Lilac Breasted ROLLERS. (LBR'S)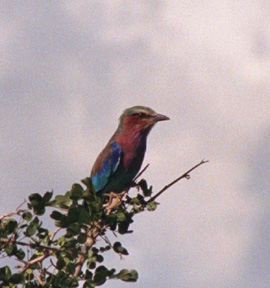 Lilac Breasted Roller
Bird Sounds
More elephants and red billed buffalo weavers, bl faced sand grouse, Yellow thr and red thr spur fowls. Stop for impalas, vervet family and elephants walking up the river.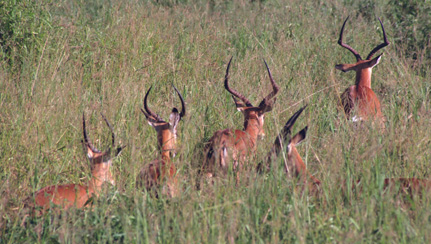 Impalas
They are trumpeting at a flock of cattle egrets and then a bluff charge at our land rover and then a real charge at another one (not a TS lr). That was exciting.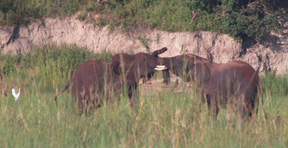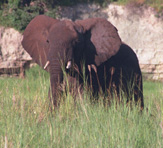 Elephants
Love birds looks and then we gather at the overlook for distant vulture looks. Back to camp late and there is a troop of baboons in the road amusing us. Most of us could watch them for hours but we must tarry forth.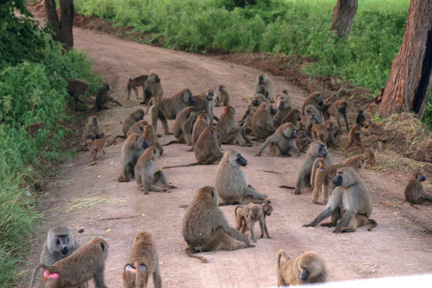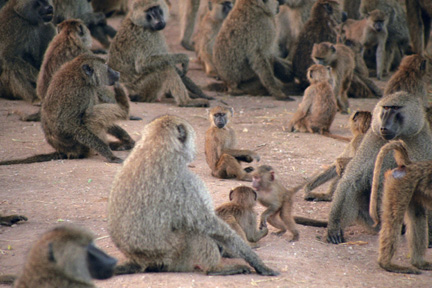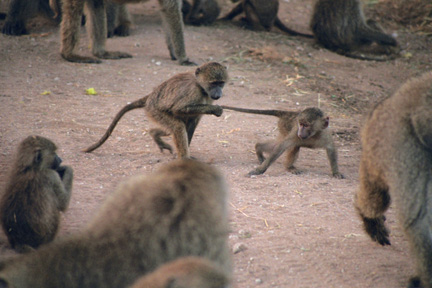 Babboon troop roadblock
Reports of leopard sighting but not for us and a look at our rock hyrax. Closest relatives are the elephants. Back to the lodge for another fine dinner. The loud sounds of snoring tourists echo through the primeval wildness of the Savannah.
Last Modified 12.3.2002