10 February 2001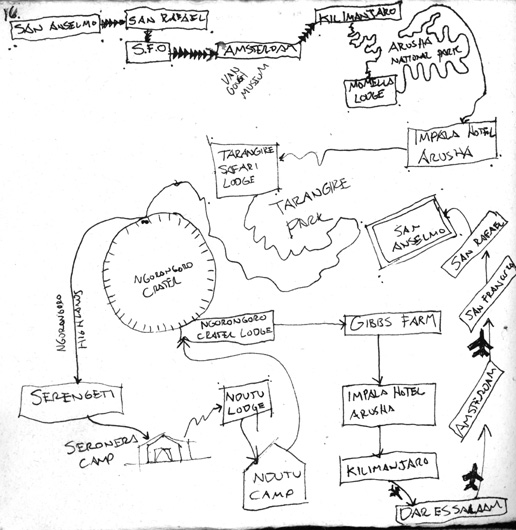 Up early to the new sounds and smells of Tanzania. Some heard hyenas last night. Greeted by a great clear view of Mt. Kilimanjaro with few clouds. Giraffes, Cape buffalo way up the mountain, Marabou Stork,
Weaver, redwinged starling, speckled dove, Egypt goose, sacred ibis, Hammerkop. and this is before breakfast. After breakfast we have a brief orientation with Nasibu and me telling how to make the trip safe and comfortable. then we meet our drivers: Hashim. Kumbi and Phanuel, we are in their hands now.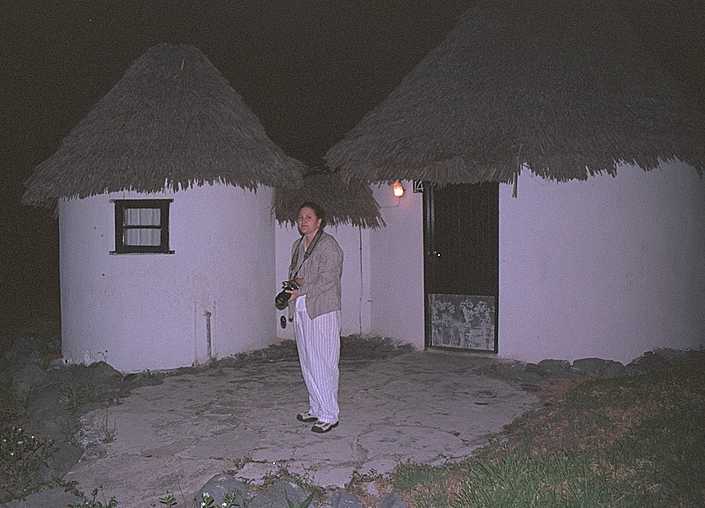 In front of our room at Momella Lodge, Elizabeth is about to photograph giraffes without film.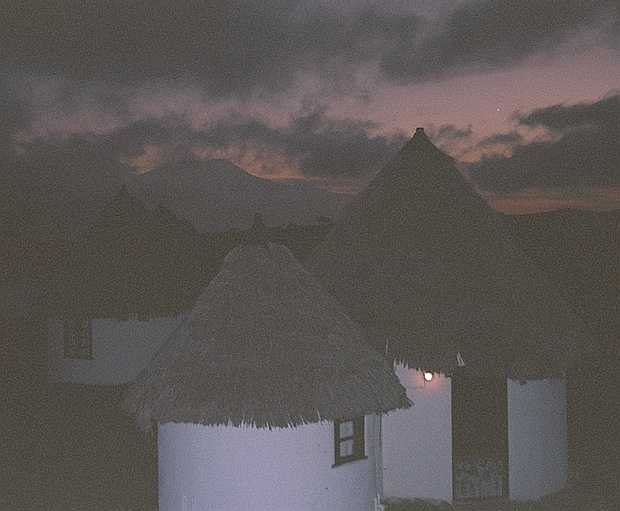 Momella Lodge at Dawn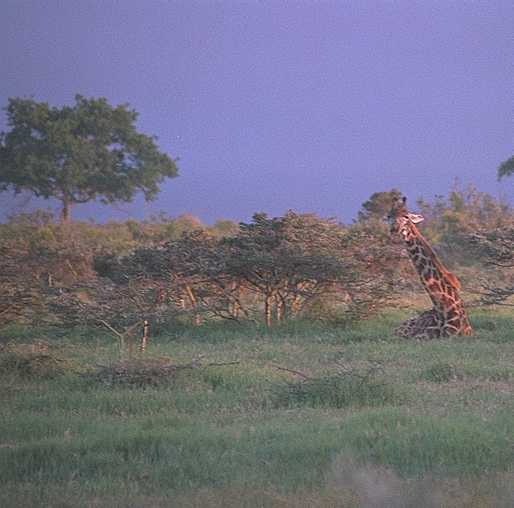 A Giraffe grazing in front of Momella Lodge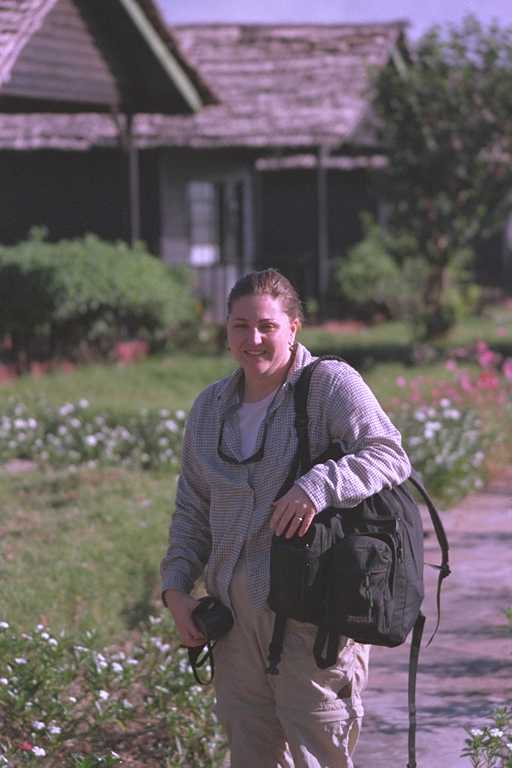 Liz in front of Momella Lodge

Acacia Branch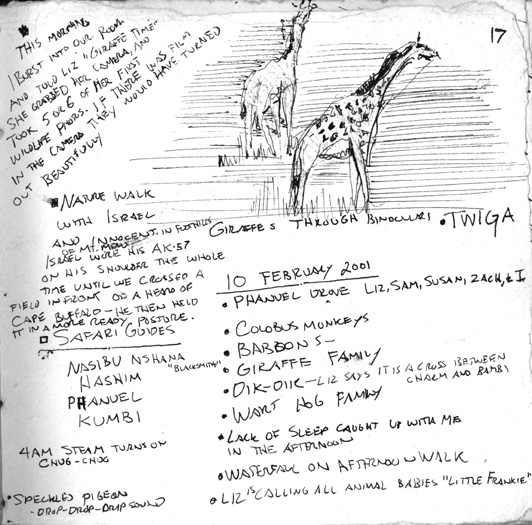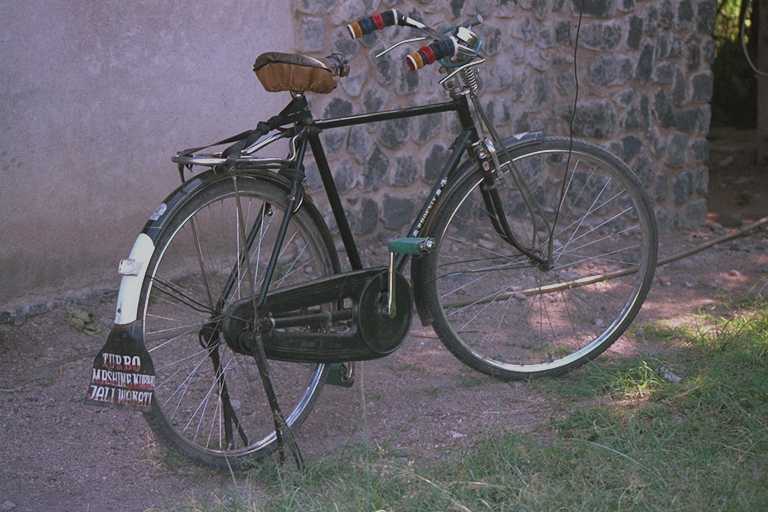 An Arusha National Park Ranger's transportation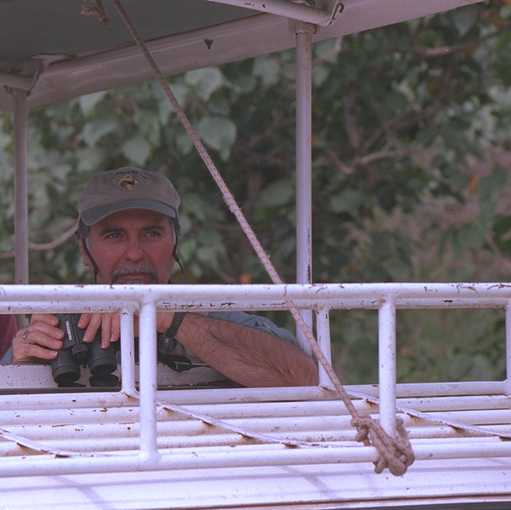 Richard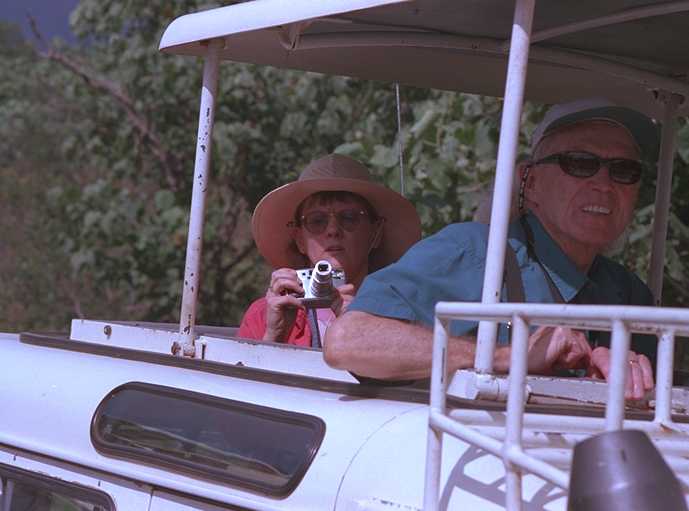 Julia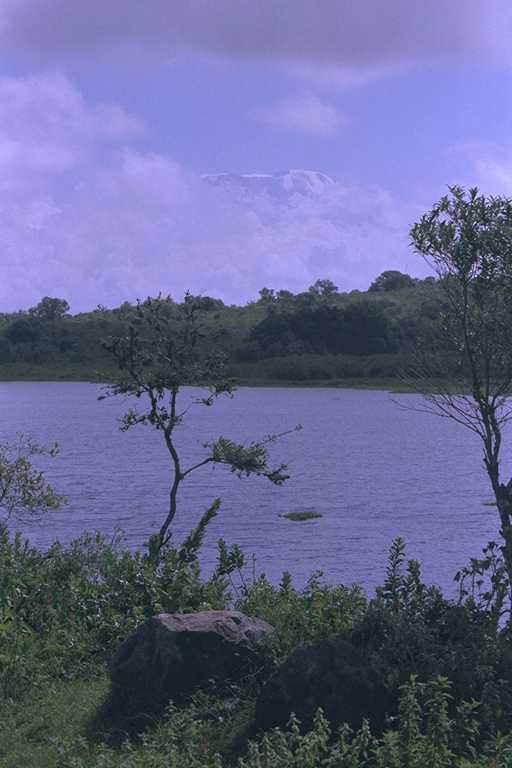 Mount Kilimanjaro from Arusha National Park
Off and into the Park for a stop at giraffes and Cape Buffaloes then to the VC to pay our fees, buy a few books. We are at 1500 m; Meru is higher than Mt Whitney. Rough winged swallow, Horus swift, Hurry up and wait, welcome to A. Stop for Cape Buffaloes, white fronted bee-eater and yellow tailed longclaw. Hippo and African jacana in pool to the left. Look at several spur winged geese (Africa's largest). Next stop for our first baboons. We drive to Mikindu Pt overlooking Ngurdtoto Crater. Stretch our legs. White-eared barbet, Cape [not water] buffaloes. warthogs far down below, cool temp. Our first group photo.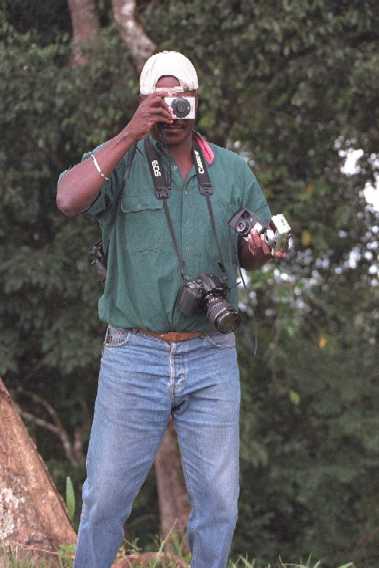 Our Head Guide Nasibu takes a few pictures
Monkeys are not cooperating but we stop to watch a troop of baboons, red duiker looks in forest. common bulbul, yellow wagtail. Sharp-eyed Nasibu spots some black and white colobus (the skunks in the trees); whew I thought we weren't going to see them. One had a baby. The Black and White Colobus monkeys fill the same ecological niche as the Howlers of the New World-- eating nothing but leaves and moving slowly, the cow-monkey. Getting to be lunch but first more giraffes and Cape Buffaloes.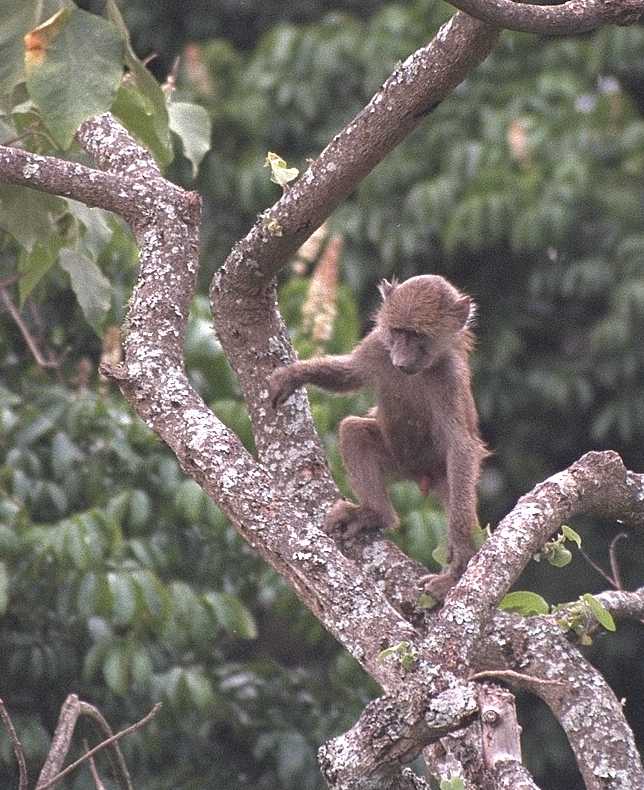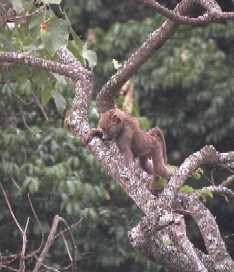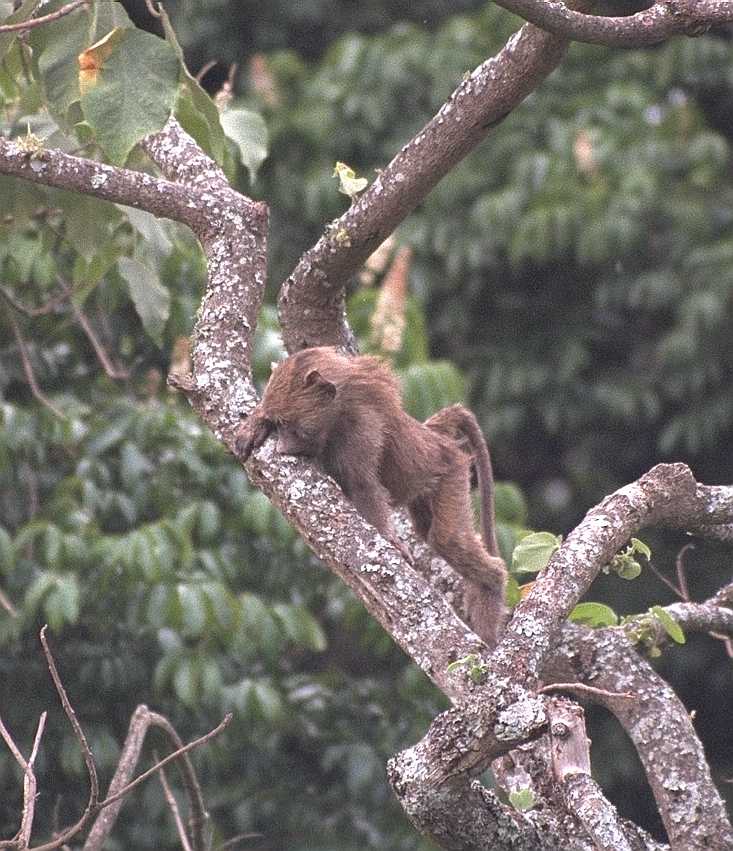 A baby baboon plays on a tree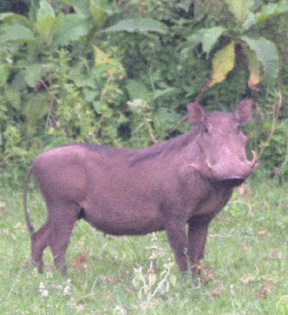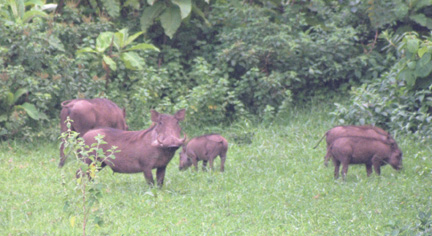 Wart hogs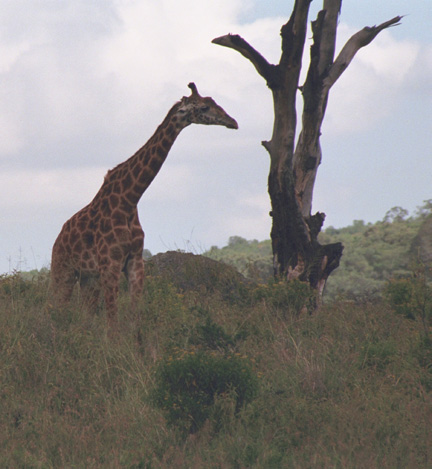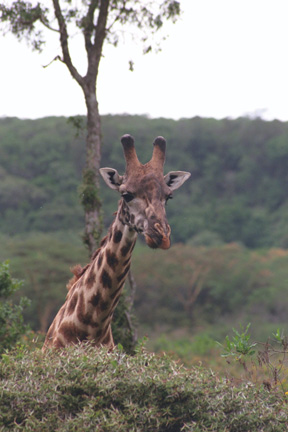 Giraffe
Finally lunch, tangawizis, yummy. But what a slave driver, we are off again at 230 for our hike. Looks like it could rain, clouds keep it coolish. We pick up our armed guards - Innocent and Israel. Takes a while to get going, now we are on African time. 1500 m elevat. Started for the waterfall, many butterflies, found Cape buffaloes, they are always in a bad mood, warthogs (naked swine of the savannas), giraffes, and white fronted bee eaters, GREEN MAMBA (we think, could also be a green bush snake), dikdik shit shit, elephant poop but no ellies, baboons. geez I think we are here! Sodom's apple, jasmine bush, strangler fig, fever trees (AKA yellow barked acacia). To the waterfall.
Audio: Arusha National Park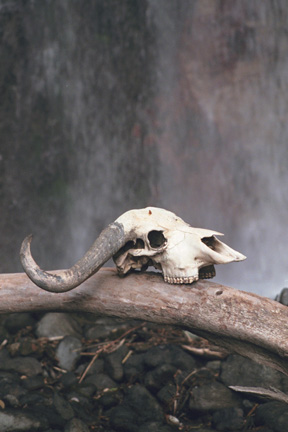 Cape Buffalo skull near a waterfall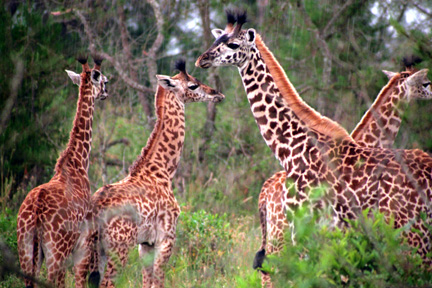 Arusha Park Ranger in front of Cape Buffalo herd
After the hike we drive to then lakes, Created by the lahar (cataclysmic volcanic/water flood), stop for dik dik pair and water bucks sitting in the mud. Thunder. To first lake and go right, great birding- our first vervets. Blue monkeys seen playing in the trees. our land rover sees a great flamingo show. Sunbirds are the ecological equivalents of hummingbirds in Africa. Yellow-billed ox pecker, pleasant wind. another Red Duiker (Dutch for darter). Jicanas, papyrus, Reed buck.. We are all feeling kinda sleepy but happy. . Red billed teals, gray herons, hammerkop, yellow billed egret, egy geese, blacksmith plover, stilts avocets, Hottentot and Cape teal, Maccoa duck, bushbucks, water bucks (target on butts), cape buffalos, giraffes, warthogs. Fireball lilies (wow). hippos seen by one van. We don't always see them here!. More giraffe looks.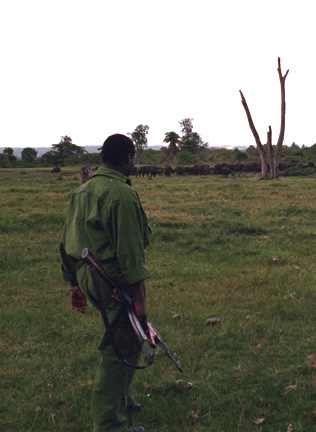 Young Giraffes
Back to lodge for recoup, shower etc. Jetlag is hitting. Our first dinner together, hasn't this trip been going for a while?? This is only the first day!! We briefly review the events of the day. We get our stuff together to give Mama Simba. A good beginning, geez we are bushed by the bush. The movie Hatari (kiswahili for 'danger') is shown but we are asleep.
Last Modified 12.5.2002